How To Develop Your Own Gardening Marketplace App Like Neverland
Mobile app development
Gardening Marketplace App Development
Gardening is a favorite hobby for many urban and semi urban dwellers. Even during the pandemic, the gardening market shot by 9% in 2020. Gardening lets people connect with nature, lifts up their mood, and improves the look of their environment. By having the presence of plants and greenery around, people feel a sense of connection with nature and are able to temporarily escape from the concrete jungles that are most major cities today.
With on-demand apps available for every sector and every consumer's needs, gardening was one sector that didn't have an abundance of on-demand apps. That is about to change with the increasing popularity of apps such as Neverland. Gardening marketplace app development is about to take off with many entrepreneurs and startups vying for a dominant position in this burgeoning market.
Neverland The App:
Neverland is a gardening marketplace app that is positioning itself as the marketplace and go-to app for aspiring horticulturists. What started as a passion project is turning into a major opportunity given the size and the untapped potential of the gardening app market and the backing of some prominent investors.
Developing Your Own App Like Neverland
There are multiple factors to consider when you are to undertake making your own garden planner app like Neverland.
Main Features Of The App
For your app launch to be successful, you will need to deliver a feature-rich app to the end user. By conducting market research beforehand you will have some idea of the type of features you need to include. Here are the features we think your app should have.
Instant Login:
Users can simply log in using their social media profiles or existing email ids. By using APIs of the social media and email account providers you can allow people to quickly login and avoid the hassle of creating a whole new login and remembering the details.
Live Chat Support:
Users can get help with their gardening plans and which product to buy. Since most of the userbase will be aspiring horticulturists who will need guidance from gardening experts. Providing timely gardening services will also help users with their app experience and turn them into loyal customers/subscribers.
Connections & Friends:
People can add friends and contacts and keep up to date with each other's gardening progress and share news, information, and tips.
Weather Updates & Analysis:
Weather will play an increasingly important role in gardening and horticulture activities. As such timely weather updates by linking to the relevant weather provider APIs and providing analysis of the gardening needs based on weather will help app users to do gardening better.
Gardening Marketplace:
You can create a dedicated app for this feature alone or integrate it as one of the major options. Selling gardening items, seeds, gardening tools can be a major source of revenue.
Guidance:
App users can receive plant-specific guidance, guidance regarding the soil and growth patterns as per their area and type of gardening setup.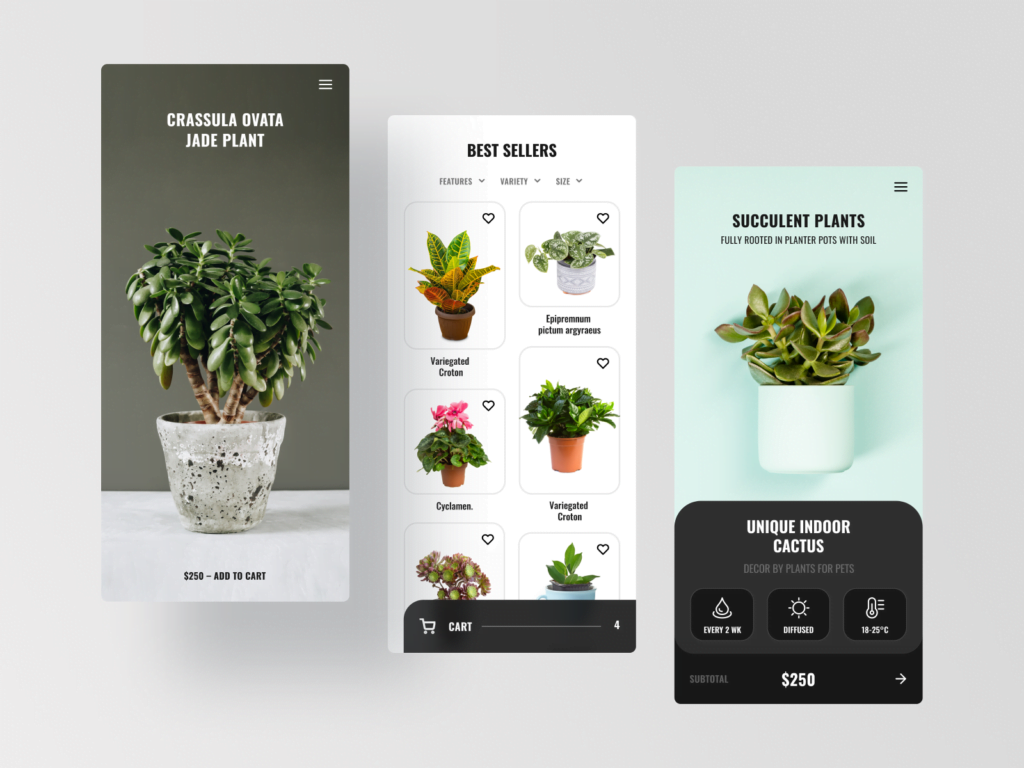 Reminders:
Reminders about adding seeds, watering plants, adding fertilizers, and the whole process of gardening. Users can define the type of plant/garden they have and based on that the app will give them timely reminders to maintain the plant.
Troubleshooting:
The app can provide timely troubleshooting in case the plant is not growing or there are problems maintaining the garden.
Expert Contact:
Local verified experts can be contacted through the app when app users need help with their gardening or setting up terrace gardens or landscaping.
Multiple Payment Options:
All major payment gateways such as Stripe, Paypal should be integrated to provide complete payment options for marketplace buying.
Search Option:
Users can search for plants, users, experts, and whatever need they have.
Order Tracking:
Orders placed on the marketplace can be tracked and monitored in real-time with standard e-commerce tracking features.
Offers & Discounts:
Either the app owner or the various third parties on it can offer users discounts and special offers related to purchasing, bulk orders, festivals, and so on.
GPS Enabled Location:
with GPS-enabled location tracking, users can get weather updates, updates about the gardening and plant patterns in their area, and local news and expertise if and when needed.
AR/VR:
Users can transform their barren land with AR/VR to see how their final gardening/landscaping will look like. This feature will allow users to plan their gardening efforts and maintain the aesthetic they have in mind.
Monetizing The App
There are multiple methods to monetize the app:
Premium Version:
Features can be given to users on a free version but updated and enhanced features can be provided on the premium version.
Services & Products Selling:
As the app owner, you can take a certain percentage of the third-party products or services being sold. You can also offer in-house services & products and get even higher margins.
Ad Revenue:
You can offer to run ads on behalf of advertisers and generate revenue based on your userbase.
Suggested Techstack
This is a basic tech stack for the app for both Android & iOS. This stack can be used entirely, partially or you may opt to use a different stack. Technical and app feature requirements will dictate the tech stack that will be ultimately used.
Java
Kotlin
Google Maps AI
Proximity Beacon AI
Google location services API
MySQL Database
Swift
Google Maps API
Apple Mapkit
Core Location API
Core NFC API
MySQL Database
Conclusion:
Gardening marketplace app development is a major opportunity that is still relatively untapped. If you are looking to develop your own gardening app do contact us and we will help you develop the right app with custom pricing plans.
Posted on April 28, 2021 by Keyur Patel