How Quickly You Can Build An App Like Threads
Uncategorized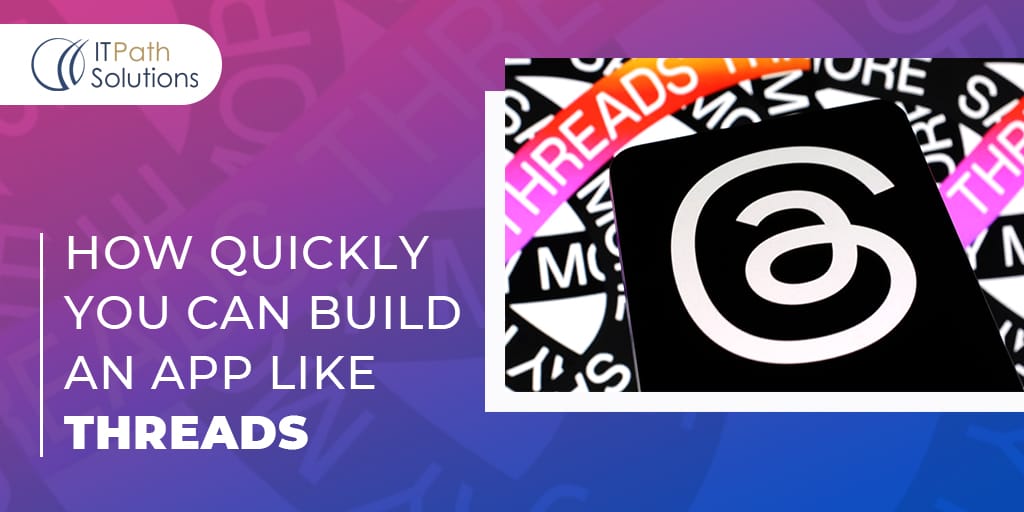 Introduction
Threads was launched by Meta, formerly Facebook, as a  response to the social media app Twitter. This rivalry between Elon Musk owned Twitter and Mark Zuckerberg owned Meta has resulted in a new short form social media app that is quickly going viral and has gathered users at an unprecedented pace. About 100 million users quickly signed up in the first five days. 
The fact that users can easily access the website using their Instagram account is a big plus for the app and has resulted in fast registrations with huge volume. Users have also deemed it similar to the earlier Twitter app and the experience it provided before the controversial changes enacted in Twitter recently. Although the app has been criticised as a closed system instead of an open source social media platform which many users are currently demanding.
How does a Threads App Work?
Thread is largely similar to twitter and works accordingly. It's a short form social media network with support for multimedia posts. Although thread has a higher character limit at 500 characters, an Instagram account is a requisite for now to open a threads account and users can post videos that are five minutes long. And you can't check other users' likes as you can do on twitter. Threads is also promising that users will be able to interact on other platforms other than threads using Threads' content. Decentralising the social media experience.
Why Should You Consider Developing An App Like Threads?
Making a new social media app is a challenging task and requires custom mobile app development combined with an obsessive focus on UI/UX to make sure that users tune in and stay connected. As per reports, social media apps will be a market of about $130 billion by 2030 alone. There is ample room for a new exciting app that can offer:
Decentralised experience

Less restrictions on users such as rate limits

Is committed to user security and privacy 

Provides features for multimedia

Focuses on community over wide reach and random content in feed

Has an algorithm that is tuned in to the user's needs
How Quickly You Can Develop It?
You can first do requirement analysis and submit it to your custom app development partner. Define the target audience and features and functionalities to be developed. 
Then define the target your target audience is most likely to belong to and start talking with your potential users and know their minds. 
Then your custom development partner, preferably IT Path Solutions, can start designing wireframes, mockups and prototypes which will be taken to development based on detailed discussions and feedback for the final version of the app. 
After the prototype and wireframe is freezed, we can then finalise the tech stack for this app and start developing it. First step will be to design the UI/UX and then convert it into an app. Features and other functionalities will be developed concurrently. After which testing of the pp and bug fixing will begin. Once that is over you can deploy the app. To answer the question of time, this task can be accomplished in 90 days with dedicated developers and a reasonable list of features.
Key Features to Build an App Like Threads
Thread is a platform that become most popular today due to its distinctive features, it is a great choice for social media enthusiasts. Thread offers a unique feature to build a community based on interest and online conversions. Here are some key features while developing an app like Thread that's unique from Twitter.
Seamless Integration:
Thread allows users to sign-up with their existing Instagram account and derive everything and make it easy for them to connect friends and followers from their Instagram account to their thread account. This feature makes Thread optimal and easy to get onboarded and use.
Follow Account Automatically
Once users are live on thread, they can automatically follow all connections they already follow on Instagram, as they join the app. This unique feature helps the user to bring all Instagram connections to threads.
Enhanced Messaging:
Using Thread, users can share texts, content up to 5000 characters, photos, links, and videos in more than five-minute lengths. This feature helps users to share content on Instagram stories while linking their thread account to other apps. Thus you can get more engagement and reach more audiences. And it's a great choice for social media enthusiasts.
Threads
The app feature is just like Twitter, with short text-based content options to like and repost and the ability to quote a thread, similar to a retweet with quotes. 
Vibrant Communities
Thread is a platform that builds vibrant communities where users can share content and meaningful discussion and connect with like-minded people who share interests. Any social media app's aim is that users can build a loyal following and share their ideas, opinions, and creativity with the world.
Have Control Over Your Threads
Unlike Twitter, thread provides a total privacy control feature to users for their online conversions. With the thread feature, users can customize their experience by selecting who can mention or reply to them, hide offensive words, and phase and manage profiles through unfollowing, blocking, restricting, or reporting. This feature makes threads unique and more attractive than Twitter. 
Interoperability with Other Networks
This integration allows your app to seamlessly connect with other apps and platforms supporting the protocol. By embracing interoperability, this feature allows users to engage with a wider network across different platforms. Thus This fosters a more inclusive and expansive social experience
By implementing these robust features into your app, you can create a highly engaging and interactive text-based platform that provides users with seamless integration, robust customization options, and opportunities to connect with other users who share their interests.
How To Develop An App Like Threads?
To develop an app like Thread, hire a dedicated app development firm like IT Path Solutions which has the expertise in delivering this kind of application. Here is the development process for the App like Thread.
Requirement Analysis
By analyzing a fully comprehensive app's requirements and objectives. Clearly define your target audience, feature, and functionality that will go into app.
Market Research
To create a successful application, extensive market research is essential for user preference, competition, and potential opportunities, you can clarify your app's features and functionality accordingly to the needs of target audiences. Market research will give you valuable insights into their strength, weakness, and areas for improvement.
Make Development Plan
Building a well-structured development plan is essential. Carefully analysis of suitable technology, programing language, platforms, and frameworks based on scalability, performance, and compatibility requirements. Natively developed applications for iOS/Android devices or utilizing alternate choices like Flutter and React Native is extremely important at this stage.
Hire Mobile App Developer Team
Developing an app like Thread requires careful planning to deliver a high-quality and comprehensive product. One way to accomplish by consulting with a mobile app development team who can create scalable, interactive, and custom feature-rich applications as per requirements.
Deployment and Maintenance
To launch an app on major app stores like Apple App Store and Google play store, it is important to regularly monitor its performance, track user feedback, and make necessary updates and improvements to ensure seamless functioning across all platforms.
Monetization Strategies for building an app like Threads
Developing apps like Thread is gaining popularity in this rapidly growing social media Industry. You can unlock many opportunities like app monetization and become a million-club social media app. If you are looking to launch an app like Thread in the social media industry. Here are many monetization strategies available for you.
In-app advertising
Allowing businesses or brands to promote and instantly generate revenue through targeted ads, sponsored content, or paid partnership with brands.
In-app purchases
You can offer the app's premium services feature, premium access to their exclusive content, and many more.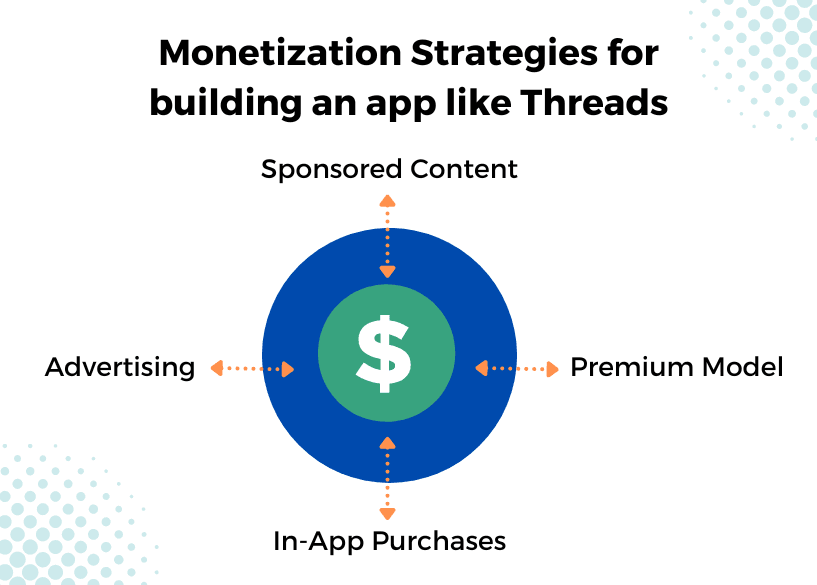 Premium Model
With this premium model, you can offer a basic version while developing apps like Thread. To use an upgrade and advanced functionality, you can offer various premium versions for monthly, quarterly, and yearly.
E-Commerce Integration:
With the help of eCommerce integration, you can enable brands to link their e-shops and provide their customers with direct access to buy their products without leaving the app.
Conclusion
Developing an app like Thread can give your business significant advantages. Building an app like Threads, with its simplicity and rapid messaging capabilities may seem like a daunting task at first. However, with the right approach, perfect research,  planning, tools, and a dedicated team, you can expedite the development process and turn your vision into reality. From concept to execution, IT Path Solutions can streamline the process and help bring your app idea to reality. If you wish to develop an app like Thread, feel free to get in touch with us. Here our expert app developers provide consultation and project estimates tailored to your project requirement.
Posted on July 18, 2023 by Keyur Patel