Exclusive Christmas Offers on Mobile & Web Development Services – IT Path Solutions
Mobile app development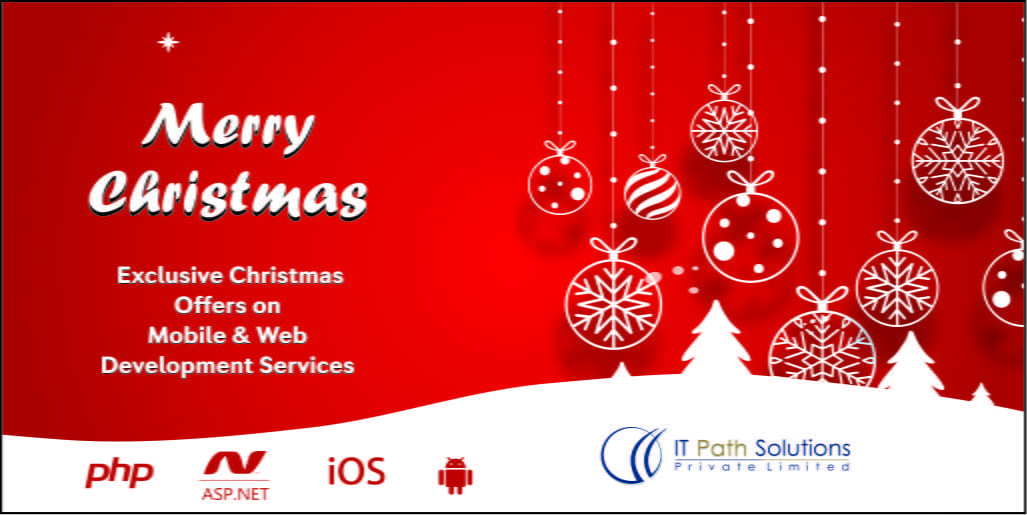 Christmas is here and Santa suggested recommended us to give you a Christmas gift! Affirmative, be heedful to his recommendation, IT Path Solutions has offering with a booming gesture of impeccable Christmas provide on Web and Mobile Application Development. On this Christmas and New Year, we are going to make this more special for you with our Exclusive Christmas Offers on the web and mobile app development. IT Path Solutions is offering a FLAT 10% OFF on all its web and mobile app development services. This offer will be valid only till 15th Jan 2019 for new projects and new customers.
Special Discount: 10% OFF on our services
Discount Area: Web and Mobile App Development Services
Our exclusive Christmas Offers on Web & Mobile Application Development Services
Mobile Application Development (Android, iPhone, React Native, Xamrin, PhoneGap, Ionic Application Development)
CMS Web Development (WordPress, Drupal, Concret5)
E-Commerce Development (Shopify, Magento, Woocommerce, PrestaShop, Opencart, OSCommerce, nopCommerce)
Framework Development (NodeJSn, Laravel, YII, CodeIgniter, CorePHP, CakePHP)
JS /Frontend Development (Angular JS, ReactJS, Vue JS, Jquery, HTML5)
Microsoft Asp.Net Development
IT Path Solutions has ventured in the business of mobile web development, custom software development, open source customization, search engine optimization and all IT sectors.
Our team consists of Project Managers, Software and Mobile AppDeveloper, Team Leaders, Designers, and QA. We are appreciated not only for our technical expertise but also our highly-skilled team of Specialists offers foremost services and solutions to our customers while making certain high returns on their investments.
With possession and demanding internal control measures we have a tendency to produce foremost content, high-quality graphics, and superior services and result orientated solutions on time moreover as, at intervals your budget.
We Serve Many Countries USA, UK, Canada, Australia, Sweden, South Africa, Europe, New Zealand, Italy, France, Denmark, Germany, Israel, Saudi Arabia, Kuwait, United Arab Emirates, Qatar, Bahrain.
We wish Santa brings new hopes, happiness, and growth in your personal & professional life this 2019. Let's welcome this year by embracing new technologies and opting for best mobile app development services,  you can Contact us to know more about our services and offers.
Posted on December 19, 2018 by Keyur Patel