Develop A Custom Tinder Like Travel App Such as OffTheGrid
Mobile app development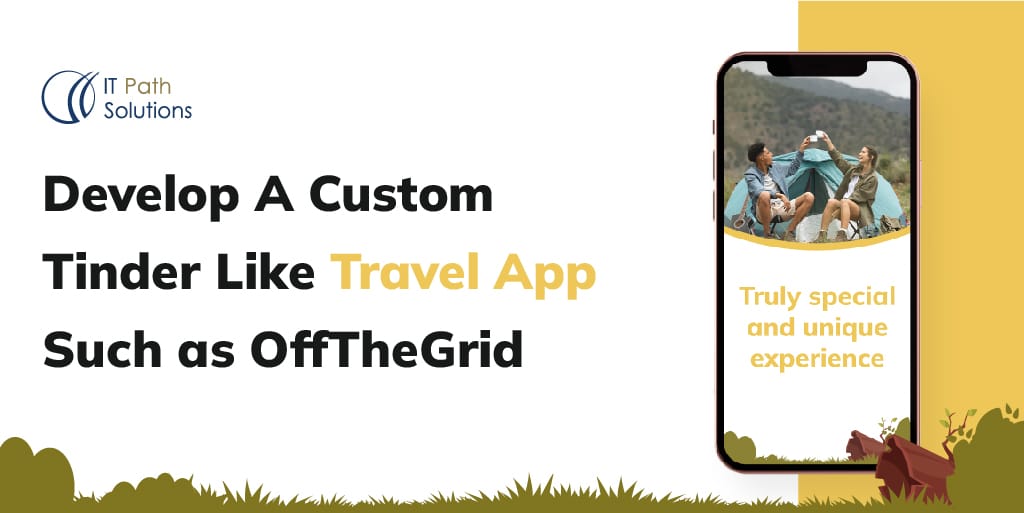 Custom Travel App Development
2022 is nearly ending and Covid is now a distant memory of sorts. Americans are packing up to travel again. About 60% of Gen Z and 40% of millennials browse online information and especially social media for new vacation ideas. A lot of influencers use travel to promote themselves as people are always looking for credible travel reviews. 
One major trend amongst young people is to go solo. People are opting to go solo to trips and locations that are distant and expensive. As such, many travellers are travelling online but would still like to have access to some sort of community. 
One such new app on the market is OffTheGrid. An app that mimics Tinder like offers for travellers. Travellers can find like-minded travellers for the location they want to travel to and find partners. Another such app is Travello. Travello has largely the same features sans the very intuitive swipe feature for likes and dislikes. Conversely, OffTheGrid implements a coin system to chat with other users. You can also get more coins by watching ads and other such activities.
Travel Apps: An Introduction
Travel apps provide multiple travel-related services to the end user. From ticket booking and trip planning to sightseeing advice and connecting with fellow travellers, travel booking apps come in various shapes and sizes. 
Some prominent examples of travel apps are Expedia, TripAdvisor and Trivago. 
Unlike these apps, OffTheGrid and Travello focus on enabling users to create personal connections during travel. 
Users can select a location and connect with other people with the same travel plans for the same location. 
To make an app like OfftheGrid, let's discuss some key aspects. 
Key Features of OfftheGrid Like App

Tech Stack

Points To Keep In Mind
Let's discuss each point in detail.
Key Features of OfftheGrid Like App
Instant Login
Users can log in using a social profile or email ID through a connected API for faster login. Relevant details can be fetched from the social DI such as profile picture and name. 
Video & Photo Uploads
Users can upload photos and videos of their travels and also upload travelogues. Other users can see or not see based on the privacy settings. Photos and videos can also be uploaded as temporary stories if possible. 
Swipe Feature

Based on the location to be travelled or the location they are in, users can swipe and match with other like minded users and join together for the travel journey.
Travelling Groups
Groups for particular forms of travel or for locations so users can share tips and tricks and travel information for a better travel experience. 
Tips & Tricks Section
This section will inform the users with relevant tips and tricks for the particular place they want to travel or are travelling to. 
Rewards Section
People who are active on the app and are sharing pictures and information can get more points or rewards that can be utilised for more app features or as real-world gift cards or similar usage. 
User Filter & Block
To ensure the safety and security of the end user, allow them to block and filter users who are abusive, spamming or plain hurtful.
User Background Check
The user's background must be checked to avoid security issues and to increase confident user participation from both genders as security and scamsters might be a real issue especially in foreign places. 
Location & User Search
Users can search for other users based on common interests, location and other filters to find like minded individuals apart from the swipe feature. 
Alert & Emergency Feature
For the security of the user you should have an alert and Emergency contact feature that the user can instantly enable to contact local authorities or emergency contacts. This feature is paramount to build trust with the users as they may not know the local police numbers and as such a simple click and call button in the app which will connect them to the right number based on geolocation might come in handy. 
Reviews & Recommendations
This feature can be used by users to browse other user's reviews and recommendations for the places to be travelled and how the travel experience can be improved through collective wisdom sharing. 
Group & Individual Chat
Users can initiate group and individual chats and contact other users who are already swiped mutually.
Points To Keep In Mind
You need to keep in mind certain points which are before embarking on a custom travel app development like OffTheGrid. 
What will be the monetization route?
           You need to either go for an ads-based model, subscription or a freemium model to make your app a revenue-generating source. 
           Who will be your ideal user and what will they look like? How will they behave with your app and their ideal use. 

How will you market your app?
        You need to figure out the right marketing mix and channel to promote your app and reach the right users and increase the userbase.
Conclusion
Making a travel app with a unique perspective like OffTheGrid is a potentially hit idea. However, custom development will be a challenge and you should prepare beforehand for any eventualities. Drop us a line to refine your idea further and create a custom app development roadmap.
Posted on September 15, 2022 by Keyur Patel