Create A Feature Rich On Demand Mechanic app for iOS & Android
Mobile app development
Create Feature-Rich On-Demand Mechanic App For iOS and Android
The mechanic and vehicle service industry are worth about $400 billion in the USA. As such it is a massive industry that holds a lot of promise for digital transformation. On-demand mechanic app development is hence is a tantalizing possibility.
How On-Demand Mechanic App Works
With an on-demand mechanic app, the user can use the app to book a mechanic, call for emergency help in case of breakdown or avail of customized services from the mechanics available on the app. It will be on-demand, as per schedule and customers can pay within the app.
Let's discuss the features of such an app. 
Features of Customer Panel
Register/Login
Under this section, the customers can easily log in into the app after creating the account. They have to add basic details such as their name, email-id and contact details. And in the second option customers can login with help of their own social media credentials.
Tutorial and On-Boarding Screen
This feature offers customers step-by-step instructions screens for accessing applications. Using this feature, customers can learn how to use the app.
Search Filter
This feature allows customers to search mechanics and multiple services by applying search filters according to their requirements and location.
Book Appointment
This feature allows customers to book appointments with nearby areas and convenient times.
Service Scheduling
In this digital era, customers don't have to wait for a particular date to book an appointment. This feature allows customers to easily schedule their services with date and time of anytime anywhere.
Real-Time Tracking
Customer can easily track the real-time location of the mechanics until he arrives at the customers' location through this feature.
Invoice Generator
This feature allows customers to get the digital invoice that is generated by the mechanic app panel.
Pop-up Notifications
With this feature, customer can receive many types of notification in their inbox such as special discount, services, offers that is provided by the admin.
In-App Chat and Calling
The in-app chat and calling feature helps the customers to stay updated about the current location of the mechanics.
Rate and Review
With this feature, customers can share rates and reviews about the mechanic services. Feedback will boost the confidence of the mechanic.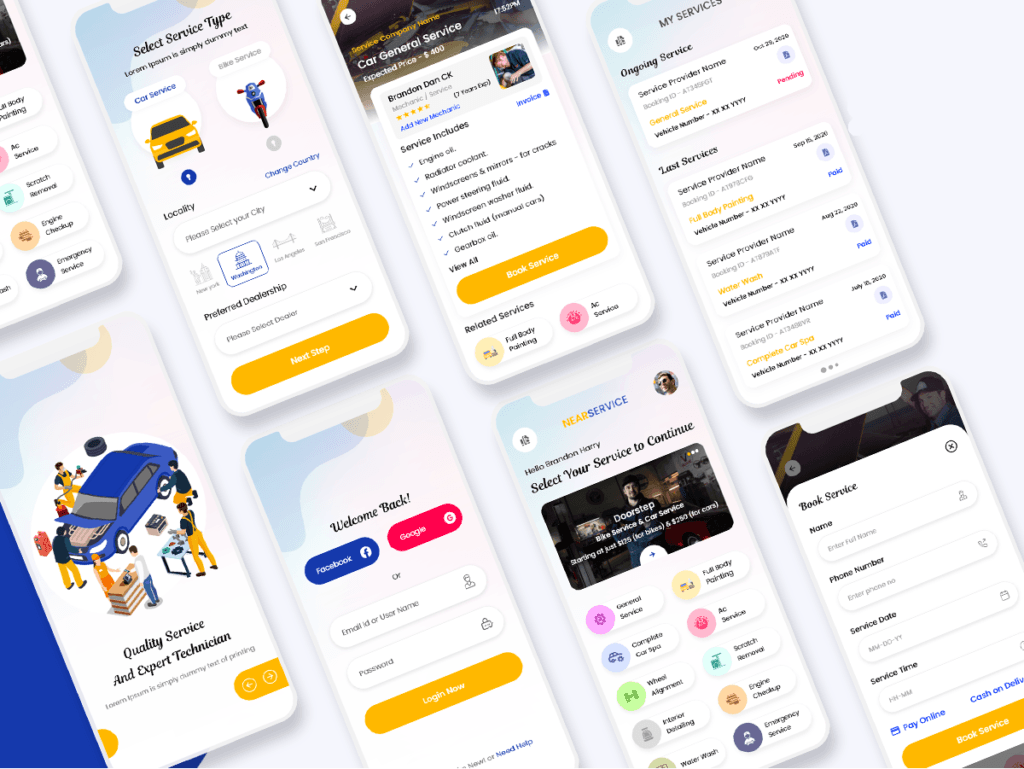 Features of Admin Panel
Customer and Mechanics Management
Under this feature, the admin can manage the entire data of customers and mechanics along with the unique id  provided to them.
Multiple Garage Management
This feature allows the admin to manage multiple garages situated in different locations at a single panel, as well, admin can add or delete any of these garages available in this listing.
Real-time order and field tracking management
Admin can track real-time order and fieldwork of all mechanics and services providers by just entering their name only through this feature.
Gallery Management
This feature allows the admin to add and delete images gallery of the various mechanics' services as well they can add title and description about the mechanic's services. Moreover, this feature also helps to attract the attention of the customers.
Payment Details
With this feature, the admin can view all transaction history that is provided by customers to the mechanics or services providers.
Rating and Review
Under these features, the admin has full access to view ratings and reviews given by the customers to the mechanics. He can reply to every feedback given by the users instantly.
Features of Mechanic Panel
Manage Services Request
This feature allows mechanics to get and manage services requests from their manager and home customers in-app. They can update their request statuses such as the request received, processing, and service delivered.
Profile Management
Mechanics can create their profile with the help of an email id or social account through this feature. They can add their images and services experience as well.
Manage Services
This feature allows mechanics to manage their services such as adding, deleting and updating, etc
Customer Location
With this feature, the mechanic can view the exact location of the customer using integrate google maps.
Help and Support Panel
This feature allows mechanics to submit their queries and complain about any issue regarding vehicle repair services.
Features of Garage Manager App Panel
Manage Mechanics List and Cost
The garage manager can add, delete, update and view any details of the mechanics from this listing through this feature. This option allows them to view the cost charged by every mechanic.
Real-Time Mechanics Tracker
This feature allows managers to track real-time locations of any mechanics using integrating google maps.
Manage Staff
The garage managers can manage all the staff, employees, and managers engaged with their business through this feature. This important feature allows them to store data of their daily wages, attendance, or expenses.
Customer Management
With this feature, garage managers can easily view customers' details by just one tap click who are already connected with your business through this app.
Inventory Management
This feature allows garage managers to easily view the number of vehicles repaired and the revenue earned by each mechanic. 
In-App Messaging and Calling
The garage manager can connect directly with customers and mechanics through in-app messaging and calling features. 
The benefit of the on-demand mechanic app
Easy of locating mechanics & garage service station
It becomes very disappointing for the vehicle owners to get stuck in the middle of the highway due to car breakdowns. It becomes more complicated is finding the nearest vehicle repair service. During these tough situations, vehicle repair service or mechanic application can serve as a boon. The customer can easily book the services and find a mechanic any time, anywhere. Hire our top android app developer that provides vehicle repair and mechanic app development solutions for your business specification.
Create Online Visibility
 Mobile apps are a prominent way of connecting to people because it provides users with a new platform to search. Today most smartphone users are using app services or data so they visit the android store and apple store on their devices. Thus If your business has an application, it will assist you in increasing visibility in market search as well it will create leads to attract new customers to your garage business.
Provides Ultimate Comfort To the Users
This on-demand mechanic app allows the vehicle owner to easily book garage services by simply just one click. After downloading this app, users can submit the details of the vehicle and select their desired service. On the other hand garage owner will send his mechanic for service assistance.
You are free from all paperwork
In this digital era, we can digitize each and every operation online, using this app, customers can store all information in applications such as vehicle details, insurance details, more and etc. Customers do not have to maintain an offline logbook or file important documents. The integrating notification feature will you remind of the due service date of customers. This way you don't have to worry even about that. Everything becomes so handy and comfortable with an on-demand mechanic app development for your business.
You can expand your business opportunities
On-demand mechanic mobile application gives you a better chance to reach out to more customers & bring them, board. After creating & designing unique features of the user, mechanic, service provider, and admin panels by our ios app developers, you can come up with feature-rich and powerful mechanic app solutions.
This solution would help you  increase the customer as well you have a chance to expand your business boundaries. Here your service can also be available 24*7, which would not have been possible if you would own a physical store. 
Final Thought
Developing on-demand mechanic apps are rapidly growing in the Market. This app will provide a wide range of niches by making sure the convenience of the customers. Vehicle repair or mechanic apps are booming as this app allows users to book vehicle repair services anywhere and anytime. If you are looking to create an on-demand feature-rich mechanic app, you need to understand the features of this application, do drop us a line below so we can provide a free NDA-backed consultation to polish your idea further.
Posted on February 16, 2022 by Keyur Patel