A Quick Guide On Developing Your Own On-Demand Baby Sitting App
Mobile app development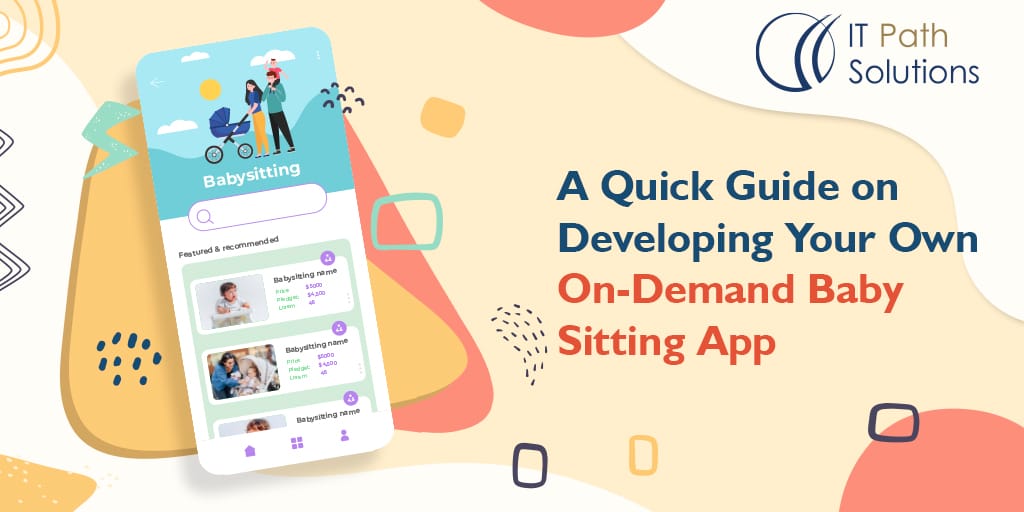 Why Babysitters App?
According to recent research, the job growth for babysitters is projected to be 7% from 2016 to 2026. With both parents working becoming a norm, it is hard for parents to spend time with their children during the daytime and also go to work. Work from home does help in some way for this aspect. As such, most parents swear by reliable and verified baby sitters who can look after their children and give them the attention and care that they need while the parents are away at work.
Babysitters App Development
This is where technology can help parents find reliable and capable babysitters with an on-demand babysitter app for connecting babysitters with the right parents. Parents and baby sitters can express their need or availability on the app and get scheduled as a babysitter or hire a babysitter accordingly. Essentially an on-demand marketplace for babysitting services 
As per a study conducted in 2020, parents in the USA pay $17.73 per hour to hire a babysitter for one child. And about 69% of the parents claim that good babysitters are hard to find. This should be great news for entrepreneurs who build exclusive and feature-rich on-demand babysitter-finding apps.
We can discuss multiple important aspects of custom babysitter app development in detail.
Benefits of Babysitter App Development
Main Features
Tech Stack
Monetization
Benefits of Babysitter App Development:
Benefits for Parents:
Convenience
These on-demand online apps make it easy for parents to find the best possible babysitters for their children. This app enables users to locate nearby babysitters to take care of their children. It also provides an element of choice to end-users.  
Multiple Options
Parents can come in contact with multiple professional babysitters, filter them as per their criteria such as pricing, time, reputability, and others, and select the best babysitter for them. 
Verification
The app will verify and background checks the babysitters and provide this information to the parents. Leading to higher trust and saving parents the hassle of doing background verification themselves.
Benefits for Babysitter
Connect With Parents
This on-demand app helps babysitters to connect with the parents who are looking for babysitter services and get booked as per their time and convenience and fees. 
More Visibility
Babysitters are able to present themselves and their skills and services to multiple parents with the help of the app. 
More Earning Potential
Most babysitters earn new opportunities through references, but with on-demand babysitter apps, they can get in touch with more parents and get booked easily, and increase their earnings.
Key Features of Custom On-demand BabySitter App:
Push Notification
Push notifications can inform parents or babysitters about upcoming appointments, slots for both babysitters and parents that have opened up, and all other information of the app. 
In-App Navigation
For both parents and babysitters to reach the home in question and for giving directions instantly. 
In-App Message/Phone Call
Using this feature, the parents and babysitting services can communicate with each other and discuss all the important information. Babysitter can ask parents anything to the child or parents can ask the babysitters any queries that they may have through this in-app message/phone call feature.
Live Video Call
The live video call feature of the on-demand babysitter app allows parents and babysitters to communicate with each other in real-time and get in touch with babysitters and parents along with the children. 
Emergency Assistance
Set quick dial numbers for emergency assistance. This advanced emergency assistance feature helps in case of any emergency.
Document scanner
Document scanners can help babysitters to upload their documents for verification and get verified for a more trustworthy relationship with parents. 
CMS For Publishing
Content Management System enables the app admins to easily manage all content published on the app. With this feature, the admin can streamline users and babysitters profiles as well as maintain a blog to drive organic traffic to the app.
CRM Integration
Admin can easily manage the customers and address all their queries in real-time using CRM integration feature. This can help to ensure a smooth user experience.
Report & Analytics
Under this feature, the app admin can gather information on different metrics such as new users, inactive users, users acquisition rate, e-store numbers, babysitter with the highest rating.
Subscription Management
The app admin can provide their users with advanced features through premium membership or set basic features in free membership.
Payment Gateways
It is vital to offer in-app payment facilities to the users that allow them to pay via their preferred mode. You can integrate common payment gateways such as debit/credit card, paypal, eWallet, etc into the app.
Tech Stack
The approximate technology stack of the app
Kotlin for Android App
Swift for ios app
Node.js for back-end
Cloud environment: AWS
Online Payments: Paypal, & Braintree.
Elastic email, email notifications
Socket io for real-time notification
Database: MongoDB, Hbase, Cassandra, Postgres, MailChimp Integration
Google Maps
Google Places
Google Directions
Card.io
APNS
Firebase
Facebook SDK for Facebook login
Tech Stack and Team
The following team may be needed for app development
Business Analyst
Project Manager
UI/UX designer
Android/ios developer
Back-end developer
Quality Analyst
DevOps
Monetization
These kinds of apps can be monetized in multiple ways: You can charge a commission fee for successful booking through the app, offer subscriptions and provide ads. The ad revenue model actually holds a lot of promise as parents are decent spenders when it comes to their children and their needs. 
Depending on the business model and your target audience you can choose the right revenue model for optimum monetization.
Final Thought
For working parents, developing babysitter-finding apps can be a successful idea that encourages parents to focus on their responsibilities and partake in their own stuff without worrying about their children. Thus babysitting is a very massive industry with an on-demand business model showcasing the immense potential for market growth. If you are starting a business and looking to create an on-demand babysitter finding apps to help parents hire an ideal and reliable professional, you must hire mobile app developers from a reputed software development company. Drop us a line below and our app development team will help you streamline your idea and quickly start the development process.
Posted on June 1, 2022 by Keyur Patel