A Quick Guide On Celebrity Look Alike App Development in 2022
Mobile app development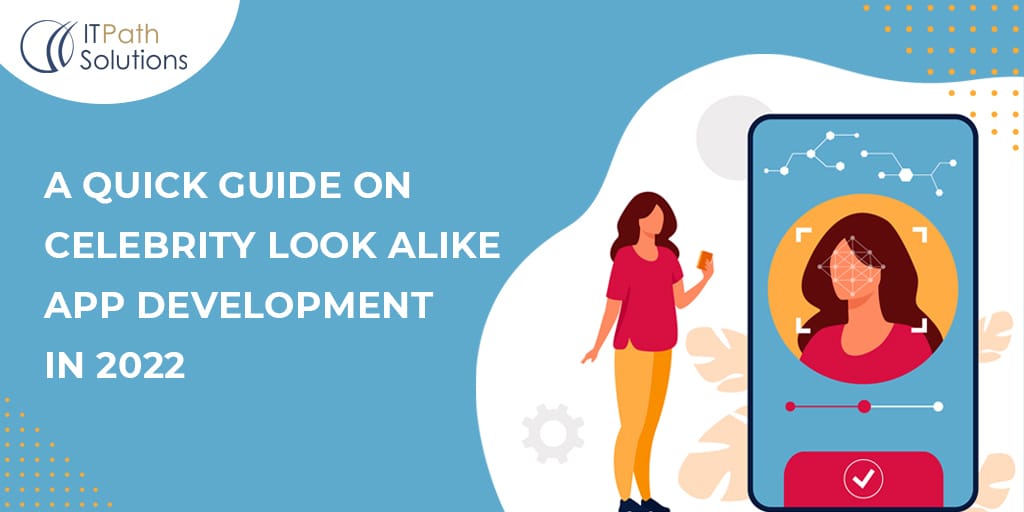 Introduction
Celebrity and influencers have gained a lot of prominence in the age of social media and smartphones. People idealize these celebrities and influencers and make sure that they follow their style, clothing, and mannerisms. Such influence in real-time was never seen before and its largely due to social media and smartphones gaining prominence. 
One of the curiosities every celebrity follower has is to compare themselves with their celebrity idols. Sometimes this takes an unhealthy obsession and that should be discouraged but a general curiosity is benign. As such celebrity comparison apps where users can compare themselves with famous celebrities and find out their nearest lookalike are a new idea on the app markets. 
It is an exciting app idea that can be developed using the latest development tools and methodologies. 
Let's discuss their main features in detail.
Common App Features for Celebrity Look Alike App
Easy onboarding
Standard social media API and email APIs for quick logins instead of creating new registrations. Also, data from social apps such as photos and videos and interests or contact lists can be added for faster onboarding and custom user experience. 
Simple Profile Creation
Users can create a stunning profile on the applications by adding details with just a few clicks in the app. They can easily manage and save their portrait by checking various filters and do a lot more. Under this section, users can decide how their profile looks to others without too much navigation back and forth. 
In-app camera
With an AI-enabled or a regular camera API connected to the app, users can quickly take pictures and share inside the app for comparison and evaluation with their celebrity lookalikes. 
Share via social media
With this feature, users can share via social media platforms or with friends what they create using the celebrity look alike app such as pics, videos, and comparisons with celebrities. They can also share their match scores in an attractive template.
Push Notification
With this feature, users can receive notifications about the added new elements, effects, stickers, and much more or if their friends and network have shared something new.
Push notifications are the most effective feature that can connect users with your application and keep them hooked to all the happenings of the app.
Advance feature for Your Celebrity Look Alike Application
Social Login & Sign-up Tools:
This feature allows users to simply use any of their existing social media accounts such as Facebook or Google to quickly sign-up for the app and get started. Users can share their results or recommend the app to their social media friends.
Celebrity Cartoon look alike:
This feature helps you to attract and retain young users to your app. This feature allows the users to transform a face from a picture into a cartoon character. Stickers and emojis can be added to the face using the latest AR tools.
Celebrity paintings look alike
This feature allows users to analyze facial features like eye color, nose structure, lips, more along with expression to create the best matching painting of a celebrity and the user. 
Advanced Image Editing Tools
Our expert mobile app developers add advanced image editing tools like virtual make-up, face tuning, etc. to make sure your app goes popular among the millennials. They not only want to see the celebrity they resemble but also add quirky effects and beautiful filters to the images before uploading them on social media. This image editing tool that adds filters, stickers, and other effects can add to the value of the app.
Monetizing the App
To monetize this app you can take multiple strategies and evaluate and choose. For example, you can create a premium version of the app with more features and more stickers and emojis, and multiple other features. Also, you can collect payments for the usage of premium stickers and emojis and other such attractive features. You could also opt for advertising and sponsorships by big brands that are associated with celebrities and let them access a dedicated following that is inside your app for celebrities.
Technology Stack Required for AR-based eCommerce Development
Here is a proposed tech stack for AR-based eCommerce apps.
AR App Development Platforms – AR Core, AR Kit, Vuforia, Wikitude, Easy AR
3D Modeling Softwares – Maya, Blender, SketchUp, 3ds Max, Cinema 4D, Onshape
AR Devices – Mobile Devices, Tablets, Smart Glasses, Virtual Retinal Displays
Mobile App Platforms – Android, iOS
Cloud Environment & CDN – Amazon, Cloudflare, MaxCDN
AR App Development Engine – Unity3D, Unreal Engine
Payments Gateways – Paypal, Braintree, E-Wallets, Stripes
Push Notification – Twillo, Push.io
SMS, Phone Verification – Nexmo, Twilio
Email Marketing – Mail Chimp
Managing Email – Mandrill
Database Technologies – Datastax, Mongo DB, Cassandra, HBase, Mail Chimp Integration
Real-Time Analytics – Apache Storm, Google Cloud Data Flow
AR Standalone Platform – WebGL (2D/3D Interactive Experience)
AR Universal Operating System – Debian
Streaming Media System – Helix Universal Server, Nimble Streamer, Wowza streaming
Conclusion
A celebrity look alike app can be a good opportunity for monetization and creating a standout app in the ever-burgeoning app market. You can add multiple features and focus on the UI/UX which needs to be very attractive for an app like this. By developing and deploying an MVP first, you can then keep adding features as per the feedback from your user base. Do drop us a line if you want to develop a custom celebrity look alike app.
Posted on March 31, 2022 by Keyur Patel