A Guide To Developing A Feature-Rich Custom Business Networking App
Mobile app development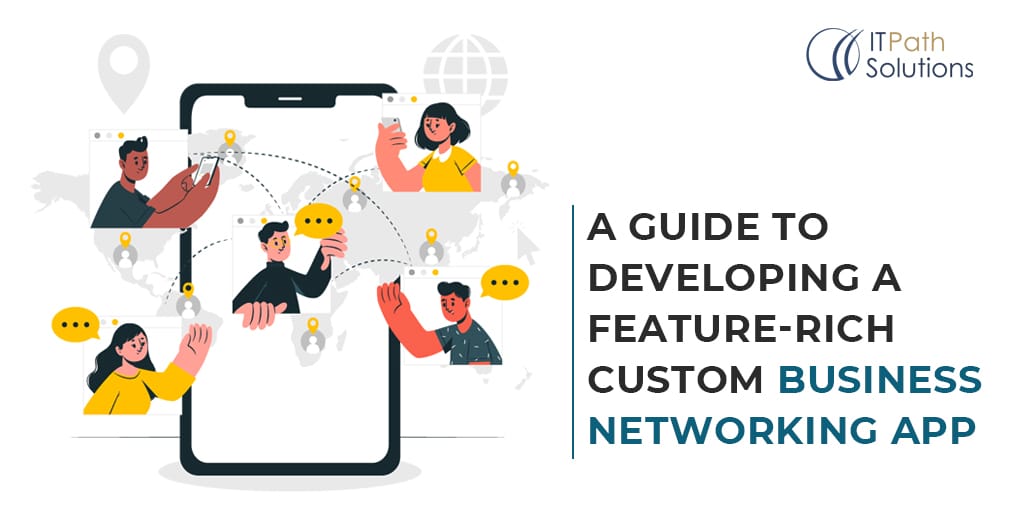 Business Networking App Development
In today's business world, startups, enterprise and professional are now highly connected in business network platforms to boost profile visibility, finding jobs, search employees, nurture their networking skills and connect with like minded professionals. It provides a virtual platform where individuals can create profiles, search for, and connect with others or industry related fields. Business networking application is a hit of success for any professionals who makes the right use for it.
With the growth of technology, business networking apps popularity have been increasing.
Business networking apps act as virtual platforms that bring professionals together, creating opportunities for collaboration, membersharing, knowledge sharing and business growth. It provides a powerful tool for individuals to expand their professional reach, stay updated on industry trends, and build a strong network of contacts that can contribute to their career or business success.
Let's discuss one of the most popular and giant business networking apps like Linkedin. As per the data for statista. LinkedIn's user base is projected to rise 828.43 million by 2027.
Key Features of Business Networking Application
User SignUp
User profiles are very essential for members to set-up and connect with people with similar goals in professional networks. This feature allows users to create profiles with diverse information about education, skills, work experience and many more within a few clicks in the app. This feature allows users to login via social media and gmail accounts.
Personal Chat
Using this feature, users can communicate with each other through the app. Personal chat and messaging are prominent app features which individual users like job searchers, employers, startups, enterprises and other industry professionals can communicate with one another.
Job Listing
Many business networking applications offer job listing options as a feature. This feature allows employers to job opening and job seekers can apply directly through this app.
Search and Filters
Professionals can easily search and filter based on their industry, job title, location and other criteria through this feature.
Group
This feature allows users to create groups, invite, add members and participate in conversion with others who share similar interests. This feature can offer facilities like discussion, share news and events and provide a sense of community in the app.
Recommendations
Users can get personalized recommendations for potential connection based on users profile, interest, and goals through this feature.
Analytics
With this feature, users can get valuable insight through the app, which includes user activity, post views, demographics, and engagement metric. 
Event Listing
This feature allows users to create and post events with a set of date ranges, adding title, description, images, video within a few clicks in the app.
Factor that impact business networking application cost
Here are some factor that impact the cost of developing business networking application
Platform chosen
Business networking app development cost depends on which platform you have opted for. 
Developing apps for multiple platforms(iOS, Android, Web) can increase the cost. You can also choose cross platform app development which ensures better user engagement across multiple platforms.
Design
The complexity and sophistication of the app design can affect the cost. An app with simple and straightforward app design cost will generally 
Features & Functionality
The cost of an app depends on how many features and functionality you decide to include in your mobile app. Advanced features AI powered search, push notification or video calling can add cost of the development.
Development Team
The size and skills of the offshore development team can greatly impact the cost of app development. The cost for business networking app development also depends on the nation or country you choose to outsource your app development task.
TimeFrame:
Timelines for app development can also affect the cost. High priority projects with tight deadlines can increase cost due to the need for more resources and expedited the development.
Top 3 Networking Apps for Entrepreneurs
Linkedin
Linkedin is one of the popular and giant business networking platforms with over 740 million registered users. where users can create profiles, develop trustworthy networks and other privacy controls built-in. The Linkedin business concept is simple and provides typical internet business networking solutions.  Linkedin offers job search ads, business and skills training through the Linkedin learning program. 
Shapr
Shapr is one of the most significant social networking apps. Since it's amusing and clever for industry professionals to connect This app uses artificial intelligence(AI) algorithms to match professionals based on their shared interests and goals. This app allows users to swipe through profiles, like the popular dating app Tinder.
Meetup
Meetup is a professional network tool for entrepreneurs, freelancers and small business owners. Meetup app allows users to join groups and attain events focused on professional development and networking.
Conclusion
Developing business networking apps offers tremendous potential for professionals, entrepreneurs, and businesses to thrive in today's interconnected world. It empowers individuals to unlock new possibilities, achieve their goals, and create a thriving ecosystem of opportunities and success. If you have any plan to create a business networking app then Hire our iOS and Android app developers who are skilled in developing scalable, feature-rich and custom business networking applications for various platforms, including ios, android and cross-platform that ensure big returns.
Posted on June 9, 2023 by Keyur Patel