A Complete Guide On Pet Care App Development
Uncategorized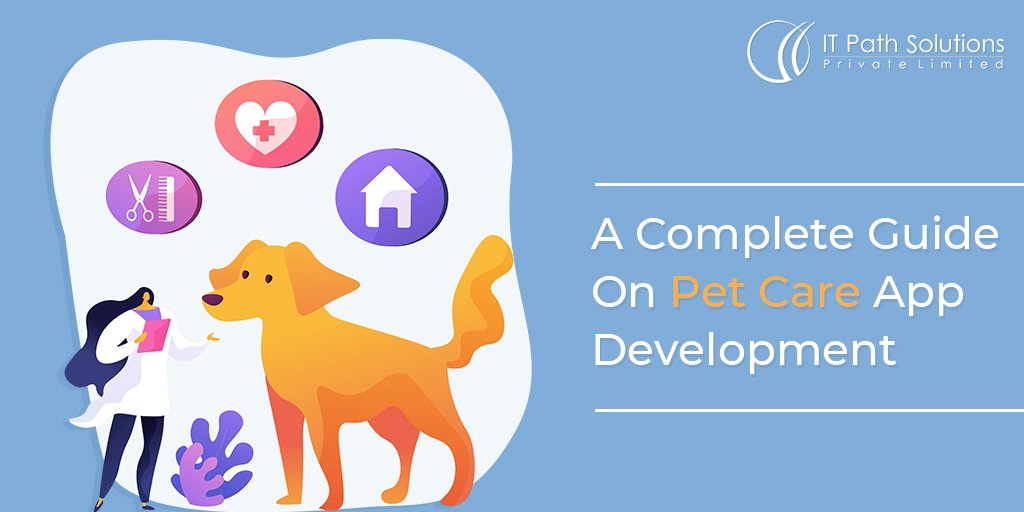 The petcare market will be valued at $350 billion by 2027. Large-scale adoption of pets in the urban areas is creating a new economy based on servicing the needs of these pets. As people are getting married at an older age, younger generations are increasingly adopting pets for companionship. Services such as grooming, specialty food, medical services are seeing increased demand especially in large urban areas such as New York, Los Angeles.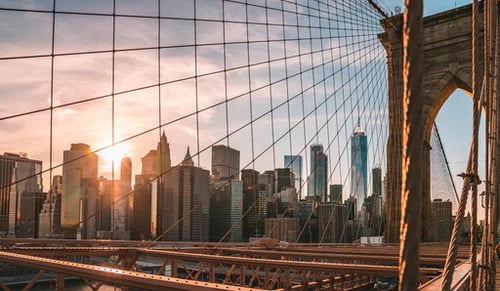 Mobile Apps & Petcare
There are multiple petcare related mobile apps available on the market that cater to different needs. But if you are looking to undertake petcare app development, you should opt for a complete feature-rich app.
Mobile apps can provide services such as pet tracking, Pet food tracking, remote pet monitoring, and other such features. Ideally, most pet owners would prefer to have one app providing all the solutions instead of having to download different apps for each feature.
Types of Petcare Apps That Can Be Developed:

Pet walking app

Pet training app

Pet tracking app

Pet networking app

Pet health app

Pet e-Commerce app
Main Features To Consider For Petcare App Development
Following are the major features of a robust petcare app.
Profile:
The profile will contain information about a pet such as a nickname, pet type, breed, age, weight, sterilization, activity, allergies and other such information. If the pet has its family, information about the family can be added as well.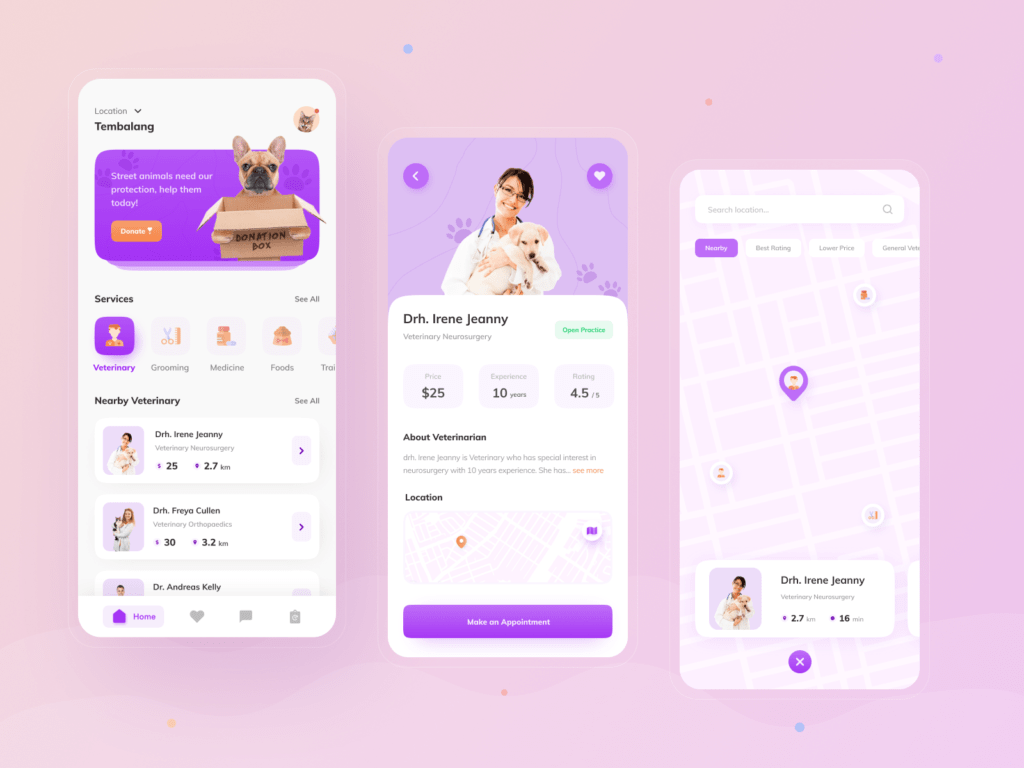 A propsed petcare app interface
Real-Time Dashboard:
In the main screen, a real-time dashboard will be shown with the latest notifications about the pet, upcoming vaccines, medications and doctor's visits along with the pet's feeding time and activity time. The location dashboard will show where the pet is right now.
Friends List:
Pet owners can create a friend list for their respective pets and follow each other for photos, videos, and status updates on the pets.
Prescriptions & Vaccinations Tracking:
For the pet's health, the app should provide timely updates on the pet's prescriptions, medications and vaccination schedule.
Location Tracking:
Pets can be given a tracking device which then provides real-time GPS information to the ap which allows the pet owner to track their pets in case the pets get lost or during walks.
Push Notifications:
Push notification on location, social updates, vaccination and medication, and pretty much anything the owner needs to be aware of. Timely push notifications can be used for reminders and updates to the pet owner.
Feeding Monitoring:
With feeding monitoring, the owners can keep a track of their pet's food consumption, favorite food items and calorie intake. It will work like a diet planner app and it can also alert the owner to health issues.
Reporting:
Pet owners can generate weekly, monthly and annual reports on the pet's health, feeding, medications, and vaccinations and other tracked parameters.
Document Storage:
For the pet owner, a single resource for documents related to the pet such as ownership certificates, medical certificates can be stored in the app so that they can be made available immediately when needed.
Exercising for Pets:
Dedicated pet exercise programs with pet-focused tutorials and videos, graphics.
Emergency Help:
Emergency contact for veterinarians, police, and other authorities in case there is an emergency.
Pet e-Commerce:
Items related to pet care such as toys, chewable, medicines, and food can be bought from the store online.
Monetization of Petcare App
We see three ways to monetize the app:
Subscription:
Users can be charged subscriptions for the app or premium features.
Product-based Monetization:
You can offer your own in-house products such as apparel, food, and other items to monetize from your user base.
Ad based Model:
You can run ads on the app and generate revenue from that.
Conclusion:
We have a large base of app developers who have expertise in developing petcare apps. In case you are ruminating about developing such an app, we will be happy to help you. Confidentiality agreements can be provided if needed.
Posted on April 21, 2021 by Keyur Patel