A Quick Guide To Auditing Your Google Ads in 2022
Digital Marketing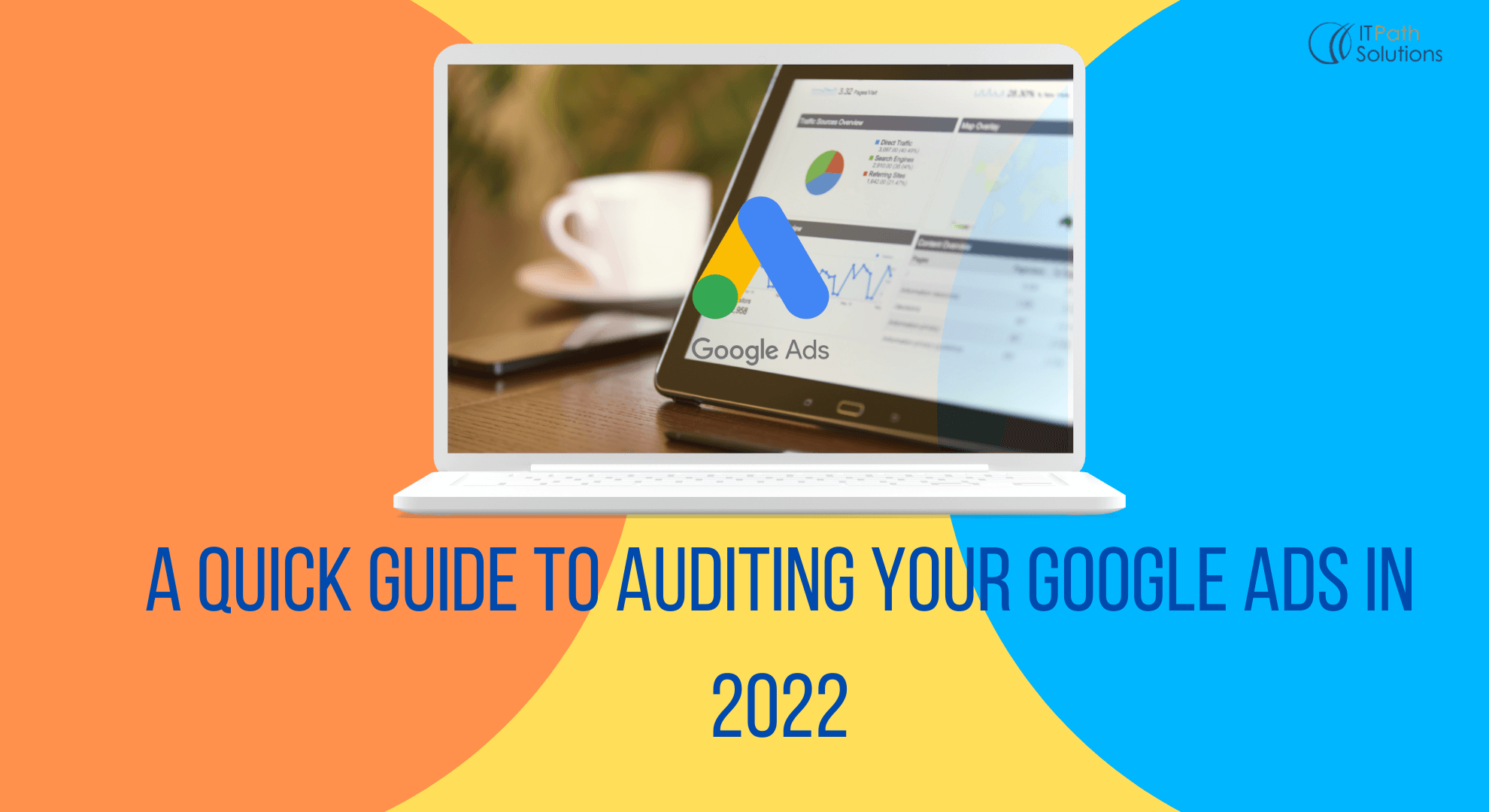 What is Google Ads
Google ads is one of the largest online paid advertising platforms for businesses to advertise on its many services, brand, and products. Around $150 Billion of ad spend is undertaken by advertisers on the Google ads platform every year. It helps the business reach online target markets through search engine platforms and partner sites. While initially based on text ads that appeared in search engines, Google has now expanded to include display ads, video ads, and app-based advertising. Google Ads now covers the entire ecosystem of the internet. Capable of touching almost every user of apps or websites.
A Google ads audit is an analysis of a Google ads Campaign to determine how it could be optimized to get excellent results & optimal return on investment. Ads audit helps you gain a strong understanding of your campaign performance and where you can improve your campaign. Campaign auditing and analysis will help you optimize your campaign to drive more valuable results for your business. You can change and optimize as per the audit.
Let's discuss the key points for your Google Ads campaign audit.
Know Your PPC Goals
Reviewing your business and account goals is a key step to make sure you understand what you want to focus on and what's your objective. There might be diverse conversion goals. Knowing your end goal for the entire marketing campaign.
In case your campaign is underperforming, you should ask a few questions to yourself first.
What are the goals of Google ads?

What are your conversion goals for your campaign?

Have your goals changed?

Has your target audience changed?

Are all your campaigns underperforming?
To know your PPC goals – Completely know your business and accounts goals, review your target persons and demographic targets. You should research the search intent and understand how it can connect to your goals and define your metrics.
In case there are discrepancies in your campaign targeting and desired goals, try to sync it first. For example, if you are unsure about your target audience, test a few potential audiences first before selecting one audience and spending massively.
Review Your Ads Campaign Structure and Settings
Your PPC campaign structure and settings are one of the most critical pieces of a successful PPC effort. There are numerous ways to consider structuring your campaigns. The right account structure can help you efficiently manage your campaigns and yield better data for decision-making.
Once you have verified the data you have collected, it's time start to reviewing campaign settings. You need to go through your account and review all keywords where you are targeting and bids and individual settings.
Pay attention to:
Geographic targeting

Device targeting performance

Spending analysis

Demographic performance

Campaign differentiation in case there are multiple campaigns

Provide user-relevant content
Review Landing Page
A landing page is also an important factor when it comes to an increasing quality score of Google ads. Landing page quality directly impacts the performance of your ad campaigns and greatly influences the metrics you see throughout ads. Your landing page plays a vital role when a user clicks on an ad and then quickly convert and drive sales. Having issues with buttons, CTAs, and loading times can hamper your campaign. Use heat maps and visitor recording to find out issues faced by the end-users of the landing page.
Auditing your landing pages will help you improve the quality score of your Google ads and get more conversions. Try to utilize attractive design, necessary CTAs and guide the users towards the end goal. Having a great campaign but not an optimal landing page will hamper your campaign and drive down your quality score.
Ads and Extensions
Ads and extensions audit is a key component of your Google ads campaigns. Ad extensions provide tremendous opportunities for meaningful engagement with prospects, which is especially important for advertisers. By auditing the ads you are able to find certain issues, including two ads variations in each ad group, use of dynamic keyword adding, use of call to action in headlines, and ads with low click rates.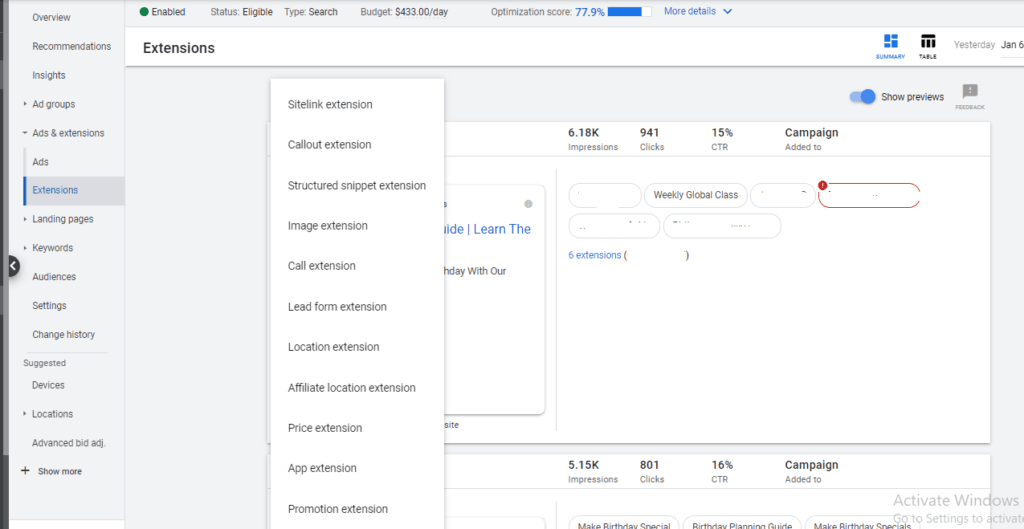 Don't forget to use ad extensions when necessary as they help provide additional information to your site, special discounts, and offers, like other information that can draw people and increase your click though rate.
Test Conversion Tracking & Recording
Conversion tracking and landing page data can tell you whether the campaign is recording conversions and whether the tracking set on the landing page is correct or not.
Deep analytics require basic and advanced tracking and to understand what is driving user behavior, there are multiple factors that might be driving users towards or away from converting for your campaign. To understand these hidden trends you need to analyze and note with the help of deep analytics. Use Microsoft clarity, Google Analytics, and Data studio to derive the insights. There are many third-party applications beyond the scope of this article that can be useful.
Final Thoughts
Google ads can be a great investment for your business provided you are able to derive the right performance from your campaigns. We also suggest to opt for multi-channel campaigns at least initially to benchmark and compare performance. Always prepare your end goals first before starting a campaign.
If you want to optimize your Google ads campaign, our Google ads experts have in-depth knowledge to audit your campaigns and recommend the right action plans to optimize your campaign performance. Do drop us a line to get started.
Posted on January 7, 2022 by Mitesh Panna
You might also like