Your Data, Amplified: How Our Power BI Consulting Can Drive Business Growth
Power BI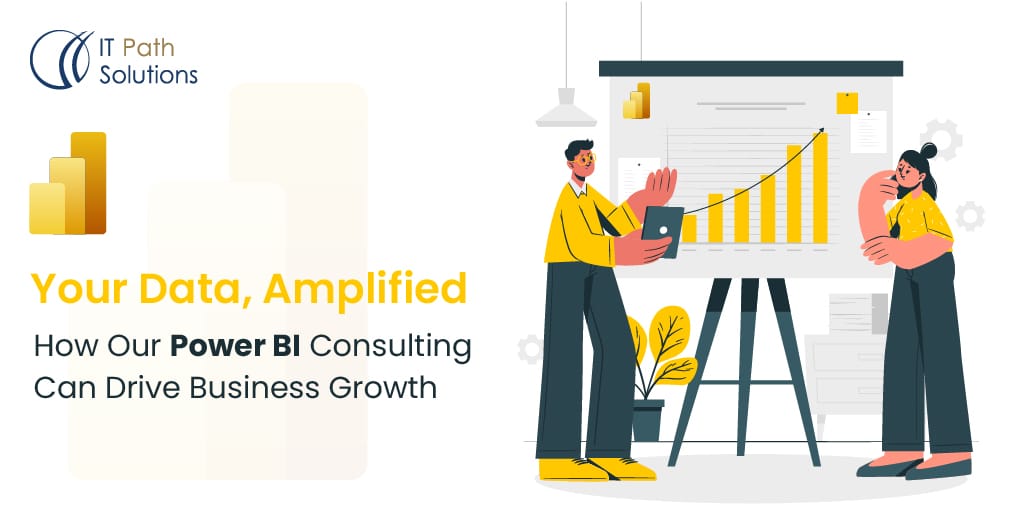 Introduction

Power BI Consultant
In today's data-driven world, businesses are constantly seeking ways to extract meaningful insights from their vast amounts of data. Power BI, a leading business intelligence and data visualization tool by Microsoft, emerges as a game-changer in transforming raw data into valuable knowledge. Many businesses are using it to transform their copious amount of data into actionable information that can help with business strategy and operations.
Here's why
Developed with simplicity and versatility in mind, Power BI empowers users to connect, analyze, and visualize data from various sources effortlessly.

With an intuitive user interface, users can create interactive and visually appealing reports and dashboards that offer real-time insights, facilitating data-driven decision-making.

Seamlessly integrate Power BI with other Microsoft applications like Excel and Azure, enhancing its capabilities and expanding the possibilities for data analysis and reporting.

Leverage advanced analytics capabilities such as AI-powered data insights, predictive modelling, and natural language queries to gain deeper understanding and foresight from your data.

Collaboration is made seamless with Power BI's cloud-based platform, enabling users to share and collaborate on reports and dashboards securely.

From small businesses to large enterprises, Power BI offers scalability and affordability, making it accessible to organisations of all sizes.

Whether it's monitoring key performance indicators, tracking sales, or identifying emerging trends, Power BI empowers users to transform raw data into actionable insights and unlock the true potential of their data-driven journey.
Benefits of Power BI Solutions
Power BI offers a wide range of benefits that empower organisations to make data-driven decisions by splitting and analysing the large amount of data they have and gain a competitive edge through data driven decision making. Here are some key advantages of using Power BI solutions:
Data Visualization: Power BI allows users to create dynamic and visually appealing reports and dashboards, making it easier to interpret complex data and spot trends, patterns, and outliers.
Real-Time Insights: With real-time data connectivity, users can access up-to-date information, enabling them to respond promptly to changing business conditions and make informed decisions.
Interactive Reporting: Power BI's interactive features enable users to drill down into data and explore multiple dimensions, enabling a deeper understanding of the data.
Easy Data Integration: Power BI seamlessly connects to a wide range of data sources, including Excel, SQL Server, SharePoint, Salesforce, and more, simplifying the process of aggregating and analyzing data from various systems.
Self-Service Analytics: Power BI's user-friendly interface empowers non-technical users to create their own reports and dashboards without the need for IT assistance, reducing dependency on IT teams.
Mobile Access: Power BI offers a mobile app that allows users to access their reports and dashboards on the go, enabling quick decision-making and enhancing productivity.
Scalability: Power BI's cloud-based architecture provides scalability, allowing organizations to handle increasing amounts of data and users without performance degradation.
Data Security: Power BI implements robust security measures, ensuring that data is protected throughout the entire data lifecycle, from data source to report sharing.
Integration with Microsoft Ecosystem: Power BI seamlessly integrates with other Microsoft products, such as Excel and Azure, enhancing its capabilities and providing a unified experience.
Cost-Effectiveness: Power BI offers different pricing plans, including a free version, making it accessible to organizations of all sizes and budgets.
Get Custom Power BI Consulting Solutions From IT Path Solutions
What you can expect from our expert Power Bi consultants and how they will proceed.
Needs Assessment: The first step is to understand the specific requirements and challenges of the client. A thorough needs assessment is conducted to identify the data sources, reporting goals, and desired outcomes.

Planning and Strategy: Based on the needs assessment, a custom plan and strategy are developed to address the client's data visualization and analysis needs effectively. The plan outlines the scope of the project, deliverables, timelines, and resources required.

Data Integration: Power BI consultants help clients connect and integrate various data sources, including databases, spreadsheets, cloud-based applications, and other sources. They ensure that the data is clean, accurate, and ready for analysis.

Report Design and Development: The consultants work closely with the client to design and develop customized reports and dashboards that cater to their specific requirements. The reports are designed to present data in a visually appealing and meaningful way, making it easy for users to understand and analyze the information.

Training and Support: Power BI consultants provide training and support to the client's team to ensure they can effectively use and maintain the reports and dashboards. This training helps users navigate Power BI, create their own reports, and utilize the platform's advanced features.

Optimization and Performance: The consultants continually monitor and optimize the Power BI solution to ensure it delivers high performance and meets the evolving needs of the client's business.

Scalability and Future Growth: The consulting services are designed to be scalable, allowing the client to expand the use of Power BI as their business grows and data requirements increase.

Continuous Improvement: Power BI consultants collaborate with the client to gather feedback and make necessary improvements to the reports and dashboards, ensuring that the solution remains relevant and effective over time.
Our Power BI Development Services
We offer comprehensive and end-to-end power bi solutions for small business and large enterprises. Leveraging  our Power BI services to enhance productivity and efficiency of client business. Hire Power BI consultant from Us to develop a custom tailored roadmap of your project and boost data driven decisions making. Our Power BI developers develop end-to-end custom Microsoft Power BI that help in building enterprise grade BI solutions. 
Power BI Consulting
Our Power BI experts have a depth-in knowledge on power bi consultant to offer best proven strategies for analytic, planning and AI focusing on Power BI. We can optimize strategy with innovative concepts (AI, ML) to power bi architect data roadmap, ensuring you meet your long-term goals.
Power BI Implementation
We can create robust power bi implementation cycles to draw up futuristic business intelligence solutions from ground zero to established analytical systems. Our Power BI expert ensures smart processing of big data to make complex analytic accessible. 
Power BI Dashboard Development
Our Power BI experts are well versed with Power bi tools to create rich value adding custom data visualisation and dashboard. Our Customised Power BI dashboard solution helps businesses to explore, display and share complex data in an intuitive way.
Power BI Customization
Our developers can build customized Power BI visualization dashboards solutions and interactive reports to meet your business needs and you can get a 360 view of your business insight. 
Power BI Data Modeling & Analytic
We build interactive data modelling architecture roadmap that functionally based on best practices, industry standard, and advanced proven techniques. This helps improve performance of your analytic reports and deliver insight from anywhere such as excel spreadsheet, cloud, streaming data source, etc. Our Power BI developer uses advanced dax formula, dax techniques, and natural language query engine for achieving advanced analytics reports.
Dedicated Power BI Consultant
We assist you leverage the full potential of Power BI capabilities such as speed up data collection, analysis and visualization process by developing our Power BI solutions. We have an expert team who can work on your project full time as per your budget, needs and goals.
Our Power BI Services Offering all it's Versions
Power BI is a powerful BI and Analytic tool that all business types can use. Power BI offers different versions, you can use these versions depending on your budget and requirements. We offer Power BI solutions for all its versions.
Power BI Desktop
Power BI Desktop is a free application version that is mainly used for small businesses and individuals. It allows users to connect, collect, transform, analyze, and visualize data as well 1GB data transfer at a time. Our Power BI Consultant helps you to get a tailored approach matching your requirements. 
Power BI Mobile
Power BI Mobile is a mobile application version that is available for android, ios and windows. Using Power BI mobile, you can create and share reports and get push notifications alerts. Hire a Power BI expert from Us to optimize your Power BI mobile apps as per your specifications.
Power BI Embedded
Power BI Embedded is a white-collar tool specially for independent software vendors. It allows you to embed power bi in their existing application and saves additional trouble of building business intelligence applications from scratch. 
Power BI Pro
Power BI Pro version offers an individual license that allows users to view, read, and interact with analytic reports published by other users on Power BI services. We can assist you to purchase the best Power BI license as per your needs.
Power BI Premium
Power BI Premium offers a capacity-based license that gives flexibility in publishing reports across the organization.It offers some advanced features like AI, Natural language query, multi-geo localization for data residency. Unlock the full potential of Power BI premium version and get valuable business insight by hiring our Power BI Consultants.
Conclusion
A business can reach new heights using the Power BI tool. Power BI offers many tools and services that make business Analytic a fairly easy task. We offer top-notch Power BI solutions that empower businesses to harness the full potential of their data. With a team of highly skilled and experienced Power BI consultants, they provide tailored solutions to address unique business needs, enabling companies to make data-driven decisions and gain a competitive edge in their industries.
If you are seeking top-notch Power BI consulting, look no further than IT Path Solutions. With a proven track record in data analytics and business intelligence, we offer a comprehensive range of Power BI solutions tailored to meet your specific needs.
Posted on July 26, 2023 by Keyur Patel