Transform Your Business With Automotive Predictive Analysis Development
Artificial Intelligence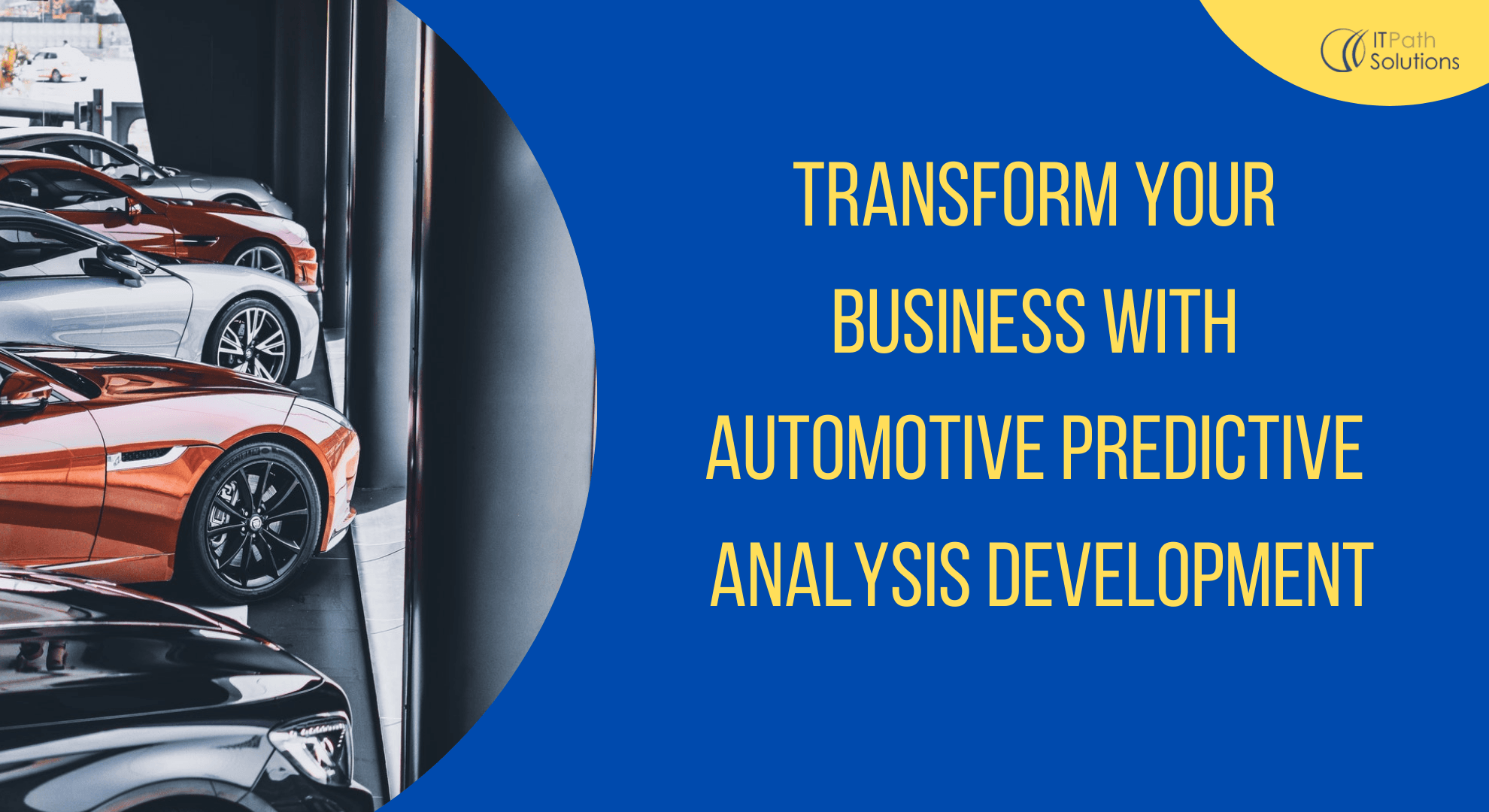 With smart cars becoming more and more ubiquitous, they are generating a huge amount of data to analyze. An average car will generate nearly a few terabytes of data per trip. Autonomous cars will generate 30 Terabytes of data per 8 hours. As such it is not humanly possible to shift through all of this data and derive any kind of actionable insight without the help of predictive analytics and machine learning. So most companies will use the services of Automotive Predictive Analysis IT Consulting & Development Company.
Predictive Analytics for Automobile Industry
Simply put, predictive analytics uses past trends and data to predict and analyze for future trends. For the automobile industry, data generated by the smart cars and autonomous cars can provide important and actionable data insights such as:
Deriving customer segmentation to boost sales and focus on customer retention
Using data analysis models to analyze the historical performance of marketing and sales campaigns
Usage data to optimize how the end users are using the vehicles
Deploying requisite counter measures for car troubles, faulty spare parts and other issues.
Derive insights on car issues, future improvements and missing features for newer versions of the car
Improving distribution chain and supply systems through user data and sales data analysis.
Automakers are also combining sales insights from various locations & apps and augmenting their supply chains and dealership channels through better prediction of sales by geography and demographic characteristics.
Let's discuss various Automotive analytics uses in detail.
Product Check & Quality Sustenance
For consistent performance and quality checks for automotive vehicles, it needs to be an ongoing process, With a large data to work with, analysts can predict future problems and mitigate them beforehand. For example there is a problem with fuel system which can be derived by analyzing the fuel usage of the car over a period of time.
Also, product recall is a major possibility for automobiles that are having manufacturing defects. Unfortunately, many manufacturing defects only become visible after the car starts getting used widely. As such constant monitoring may help in finding out such issues and avoid recalling large number of vehicles after they have been sold.
Streamlined Production Channels
In the age of globalized production chains, most major automobile manufacturers depend on suppliers and subsidiaries across the globe. As such being aware of supply chains, shipping times and local supplier issues and regulations. Analytics systems that can predict supply chain bottlenecks and opportunities before they happen can give the company the ability to plan ahead instead of merely reacting to situations and get a massive competitive edge.
More resilient and shockproof supply chains can be created with the help of deeper analytics.
Analytics based Automobiles Marketing
With large scale data analytics of your automobile customers, you can leverage the right trends and key decision factors that are influencing the customers for the final purchase decision. As automobile purchases are a major decision, customers will undergo a massive research process through marketing materials, reviewers and word of mouth before making a purchase decision. Automotive marketers who have a deeper and more granular understanding of this process can help their customers make better and faster decisions and match them with the right option from their fleet.
Financial Optimization with Deeper Analytics
There are multiple financial considerations for an automobile company. They need to manage multiple suppliers, vendors, labor and employees. As such with analytics, if an automotive company can find ways to optimize it even by a small percentage across various segments can lead to a huge positive impact on the bottom line.
Telematics & Automotive Analytics
With telematics, a company can derive real-time and historic insights into driving habits, location habits and entertainment preferences. With telematics, automobile companies can implement safety features remotely and provide additional security features such as child locks and speed breaks. Telematics data can also be used to predict insurance premiums and derive proper risk profile of the driver for better underwriting practices.
Conclusion
With advanced vehicle telematics, an automobile company can derive multiple insights not just into the usage of the vehicle but about the user and the larger market as well. If you are looking to develop a platform that combines AI & ML along with telematics to derive deep insights about the vehicles of your customers drop us a line below and we will help you get started.
Posted on September 1, 2021 by Keyur Patel