Magento Ecommerce Development Trends To Watch Out for in 2022
Web Development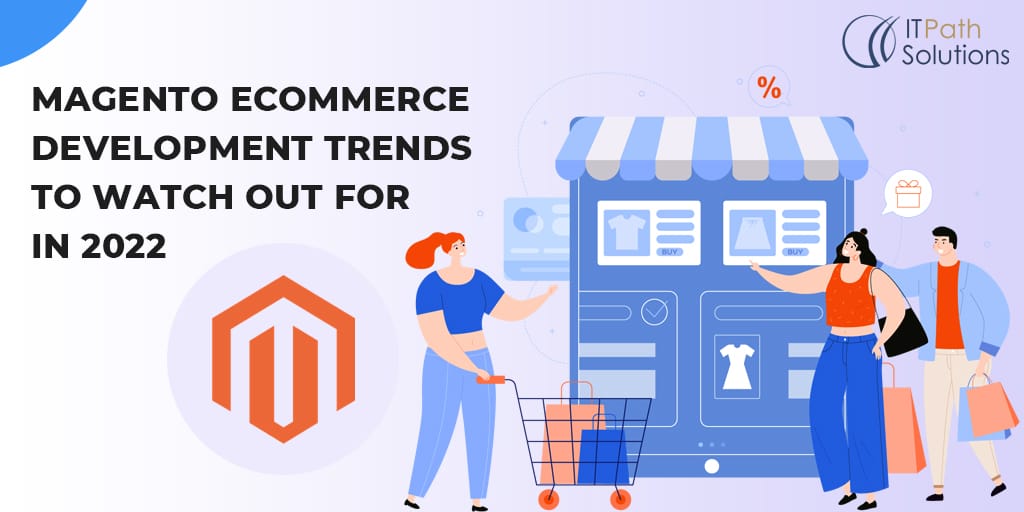 Introduction
Magento can allow your business to have a significant online presence. Magento is a Adobe owned powerful ecommerce platform that is powering nearly 250000+ websites on the web. Magento platform can help you create custom and feature rich websites that are truly responsive. Magento provides multiple options such as SEO friendliness, plugins to enhance functionality and other features to increase the conversion rate.
Benefits of Magento eCommerce Web Development?
Magento is a powerful eCommerce platform that helps to create custom eCommerce websites efficiently and securely.
It provides the latest tools and technology that can establish successful online eCommerce stores. Magento framework has more scalability that enables various small businesses with basic requirements to easily scale thousands of products and complicated behavior of customers without switching platforms.
There are multiple benefits that Magento offers over its rivals.
Customizable Stores
You can easily customize your eCommerce store to enhance your brand positioning and products on offer with the help of Magento. You can build everything from zero or use a pre-built theme and add custom features as per your need. One other option you have is to enhance the functionalities of your website with plugins. 
Large Library of Plugins
Any functionality you can think of, you can add it to your website with the help of Magento plugins. From simple SEO tasks to complex inventory management and enhanced checkouts, you can simply add the plugin that is needed and add the functionality. 
Fast Website Speeds
With the utilization of its varnish cache, Magento takes full advantage of this leading HTTP accelerator and makes web pages load quickly for a lower bounce rate, good UI/UX experience, and higher search engine rankings. 
SEO Friendly
Magento provides multiple options to optimize for SEO. You can create SEO-friendly URLs, add meta and keywords, optimize on-page SEO factors and achieve higher rankings for your websites.
Magento Ecommerce Development Trends 2022
Voice Search
Voice search has risen to 18% in 2022 from 3% in 2018. Magento can enable voice search extension with the help of plugins. You can enable multilingual support, voiceovers of the product pages, and multiple other features for voice search. 
Live Streaming
You can add live streaming to your Magento 2 store for a unique selling point and get in touch with your customers instantly. With live streaming customers can quickly make a purchasing decision when they want to buy a product. 
AI & Chatbots
With the help of Artificial Intelligence and Chatbots, you can automate many services that may require a human element such as online chat and support and assist your buyers and customers more easily and round the clock without the need of hiring staff. 
Magento 2 can be integrated with Chatbots technology and many AI features to automate many customer-facing tasks and provide near-instantaneous and constant support whenever needed. Machine learning can improve chatbot's response and provide more and more relevant information to the user. You can use human chat support as and when needed and not rely on human support and reduce waiting time. 
Integration with Progressive Web Applications
PWA makes Magento websites more user-friendly with an app-like interface. PWA enables the Magento website to load faster and more interactive with full-screen mode, advanced features, and offline mode. It mimics a cross-platform app on all mobile phones and provides an app-like experience to the end-user using Magento. 
Responsive Web Design
Magento provides the latest UI trends like color psychology, better navigation, single-page optimization, and many more, as well it includes several themes that follow the mobile-first approach. 
As such, Magento enables your Magento web developers to create a truly responsive website that is cross-platform, browser independent and provides a rich interface that truly represents your brands and products online.
Conclusion
Magento eCommerce development is a superior platform with lots of benefits and features. If you are looking to start your online store or develop an eCommerce website, then Magento is a great option for you as the Magento eCommerce development platform helps to create a highly interactive and user-friendly website for your business. Drop us a line below and let's discuss how we can put your business online.
Posted on June 15, 2022 by Keyur Patel