How To Successfully Develop Your Own Laundry App in 2022
Mobile app development
Potential Revenues of the laundry business will amount to roughly $87 billion in the USA for the year 2021.
Laundry business is going through a great phase of digitization. Many laundry businesses are trying to target younger generation of students, office workers and stay at home parents who don't have laundry equipment at home or need to use laundry services for other such reasons. Its a service that is ripe for digital change and transformation.
Introduction To Laundry Apps Development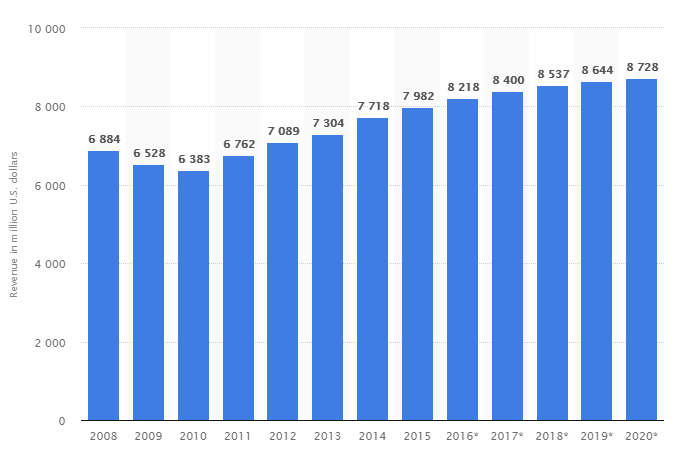 Due to the widespread adaptation of smartphones, every service and product is being converted into an app or being offered as an app for example, e-Commerce apps, weather apps, food & shopping delivery apps. Such apps provide convenience and nearly instantaneous placing of orders. As these apps can accept orders 24/7, many businesses are looking at apps development to fulfill the demand being generated when their physical businesses are not open or to shift online from offline. It also saves overhead costs such as rent, electricity and so on.
Check out the growth of Revenue for laundry Services in the United States of America From 2008 to 2020 in the chart above.
Laundry App Features You Need To Add
Major and minor features can make or break your app. We have listed the top app features you must have to make your laundry app successful.
Feature for Customer Panel of Laundry App
Easy User Registration
User can register/login with phone number or social or email account credentials for availing the laundry services in a very convenient and seamless way.
Check Availability of Nearest Laundry Services
With real time location tracking, users can track and locate their nearest laundry services provider and avail the services, book their spot and conduct business with the provider.
Select Laundry Services and Pricing
Select the right laundry services type that is needed by the user and check the pricing and pay online if the user wants to.
Users can select appropriate laundry options such as washing, ironing, or dry-cleaning as per their needs and pricing.
Select Pick-up and Delivery Date
Using this feature, users can select pickup dates & times for clothes and can set delivery dates & times as per their needs.
Send Laundry Request
Users can avail of home pickup and drop of services from the laundry service providers who offer this option.
View Order Status
Once an order is verified by the laundry owner, Users can easily see the order's progress and check its status.
View Order History
Users can keep all order records in order section and he/she can check past history of laundry orders and can repeat it again.
Offers & Discounts Section
Users can avail the right discounts and offers before placing an order by going to the offers section.
Earn Rewards
Laundry owners can reward repeat purchases of users with rewards and gifts. This can create a loyal customer base.
Laundry Service Provider Features
These features are a necessity for laundry app service providers as it will help them manage the app and the users who avail of their services.
Log in/Sign Up
Similar as the custom panel, laundry owner can sign up/login with help of a phone numbers, social media accounts and email account.
View and Manage Profile
This feature allows the laundry owner to view his profile and update personal information and other account-related information such as email, phone numbers, and so on.
Manage Laundry Charges
Charges for the services offered and all the pricing features including delivery fees, taxes and other applicable charges can be added by the laundry shop owner.
View and Manage Order Requests
The owner can manage the customer requests and start working on them or add them to the queue.
Manage Offers and Discounts
The laundry store owner can add or remove various offers and discounts he is running for the end user.
View Reviews and Ratings
The store owner can view and respond to the reviews left by the end user after availing the services of his store.
Advanced Features of Laundry App
Push Notification
Push notifications helps users stay connected to the app. Users can get all the latest information, notifications from their nearby laundry shops and notifications on offers and discounts with push notifications. Push notifications can be used to increase usage of the app and create more loyalty. Third party notifications can also be allowed for their customer base through the app.
In-app Chat
The user and store owner can initiate chats for faster communication, problem solving and for providing or availing information by live chats from the app. With this feature, store owners can provide a personalized touch to their services and users will feel like that they are talking to a real person and not just using an app.
Payment Options
With payment options, users can opt for different payment methods such as subscriptions, one time fees and recurring subscriptions. Because laundry services are needed on an ongoing basis, people might opt for subscription model which will enhance the revenue for the laundry store.
Payment Gateways
Integration with the major payment gateways so that users can pay online and pay through cards or other payment methods such as Venmo or online banking.
Conclusion
Laundry apps are a major revenue opportunity for aspiring app entrepreneurs. The laundry business is awash with opportunities for digitization and the right app entrepreneur if he can offer the right type of app with the best possible features, he can certainly capture a large share of the market.
If you are looking to analyze the opportunity of developing your laundry app idea in detail, do let us know by dropping a line below. We can help you get started.
Posted on June 10, 2021 by Keyur Patel