How To Develop Your Own Beauty Services App In 2022
Mobile app development
Introduction
Beauty services are a $60 billion business annually in the US. A dedicated and recurrent customer base, high margins, and low setup costs attract a huge number of entrepreneurs into this field. As such, there is massive scope for digitization and its subsequent improvement on customer experience and product or service offerings.
Type of on-demand Beauty Services App
Dedicated Apps
Renewed beauty brand or established salon prefers to build this type of dedicated app to expand their business locally and regionally. Using these apps, the service providers can make potential clients aware of their services and increase the online presence of their company. Whenever booking is confirmed, it is directly routed to the app owners' stylist or salon. Then they allocate a professional to visit the customers' house and extend the service or invite the customer to the nearby salon.
Aggregator Beauty Service App
Aggregator apps bring in all salons, stylists, individual beauticians, hairdressers and makeup artists under one platform. If you want to build an aggregator app, you need to partner with beauty salons and spa services in your area. In these apps, earnings are generated by charging commission/fees on every transaction or by ads.
Let's discuss how this app will look and its main features.
Features of User Panel
Register
This primary section of the app where users can register or login with help of social accounts or Gmail account credentials.
Choose the stylist or salon
Under this feature, users can select a professional beautician and can send the request, as well in second option, users can select particular salons, according to their request, a stylist assigned to the users.
View the Services
This feature allows users to view the services delivered by the beautician as well can send them requests as necessary.
Book Appointment
Using this feature, users can set the time and hours for the make-up and styling activities according to their preferred date by beautician experts or salon.
View Subscription Package
Under this feature, users can check the beauty packages related to multiple services such as facial, cleaning, manicure and pedicures, hair-style, etc.
Communicate with the beautician
With this feature, users can directly communicate with their respective beautician or the salon owner for discussing different services.
Rate and Review
Using this feature, users can view the ratings and reviews for each beautician and salon. This assists users to book the beauticians in a convenient way.
Features of Individual Beauty Expert Panel
Register/Sign-up
Under this basic section, same as the user panel, the professional beauticians can login with help of a social account and Gmail credentials.
View Booking
This feature allows beauticians to check the user's requests and type of services very easy way.
Manage Calendar
Using this feature, beauticians can easily manage their booking calendar, as well they can schedule appointments for accurate dates and times before confirming users' requests.
Accept/Decline User Request
Beauticians or stylists can accept, decline, or re-schedule the number of users requests according to their busy schedules.
Manage Catalog
This feature allows beauticians or stylist to manage their own catalog and showcase such as different hairstyles, facials, and beauty tips so as to attract users.
Payment
Under this payment feature, beauticians or stylists can receive payment from users with various payment modules such as online gateways, net banking, etc.
Features of Beauty-Salon Owner Panel
Register/Sign-up
Under this section, the salon owner can register or sign-up with the help of  social account or personal email credentials.
View user request
This feature allows salon owners to view users' requests. The salon owner can assign the stylist to a particular user according to the type of services where users seek to avail.
Manage Services
With this top feature, the salon owner can manage and add or delete their ideal services as per the user's requirements and stylist expertise.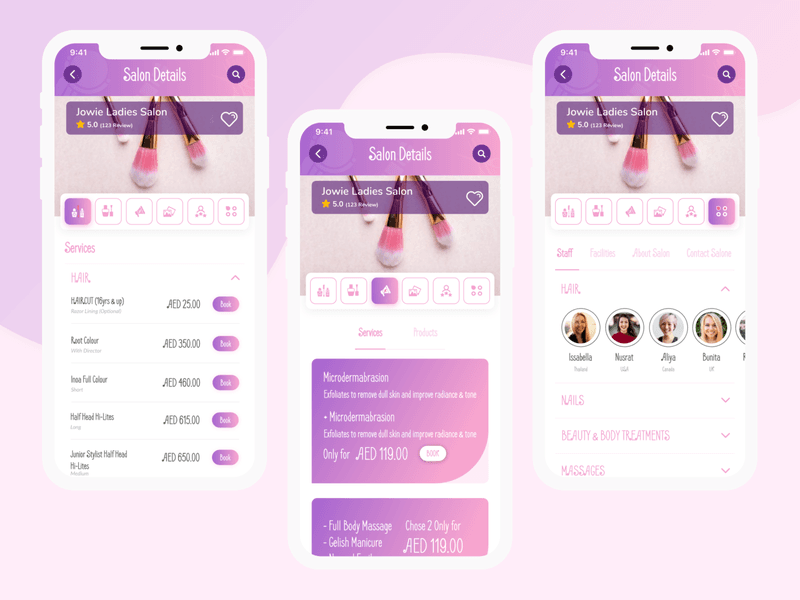 Add the cost of services
Under this awesome feature, the salon owners can modify the price of various services as per the market trends.
Accept/Decline user's request
This feature allows salon owners to accept or decline the user request according to their user's requests and stylist's availability.
Manage their own catalog
The salon owner can manage their own catalog as well can showcase different hairstyles, facials, etc through this feature.
Features of Admin Panel
Manage User, Stylist, and Beauty Salon
Under this feature, the admin can easily manage users, stylists and beauty salon panels on their dashboard.
Report and Analytic
Admin controls the major part of the app, with this feature the admin can view all the reports related to requests, payments, number of registered, type of services availed, app usability, etc.
Manage Payment
This feature allows the admin to manage all payment-related information and transaction provided by users.
App Monetization
This feature allows the admin to manage and monitor all the in-app purchases, promotional content, advertisement, email campaigns, etc.
Scaling Your Beauty Services App & Monetization
To scale your app, you need to first add all the above features to your app or at least pick and choose the right features for your intended customer base and create an MVP that is a Minimum viable product. Once an MVP is launched, you can use it to gather feedback and develop newer versions that can incorporate user feedback and wants and needs.
For monetization, you can either go for ads or charge for each transaction. The monetization model you choose depends on the features and user base you intend to target.
Final Thoughts
In this digital era, beauty services mobile apps are rapidly growing. Whether you are in the business of beauty services and salons or if you have an idea to undertake beauty services app development, this is the right time you have to start your journey. We have an expert developers' team that can help you convert your online beauty services concept into reality by creating unique app features for your targeted user's needs.
Posted on February 8, 2022 by Keyur Patel