How Artificial Intelligence Can Improve Customer Experience
Artificial Intelligence, Machine Learning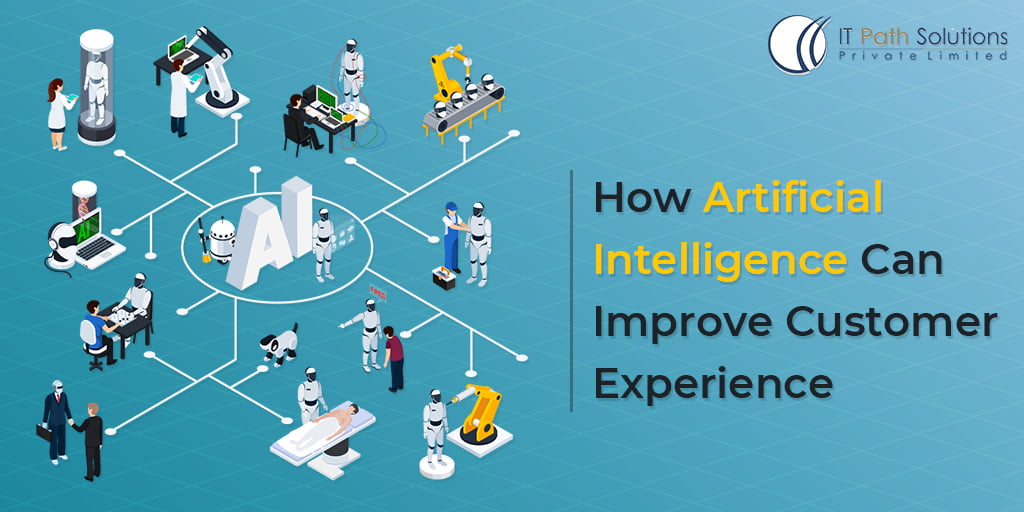 Artificial Intelligence is transforming many business functions. AI is an important aspect of new innovative digital transformation technologies. AI provides effective programs and services to collect data, analysis, robotic processes, customer service, processing to employees onboard for various kinds of industry. Application of AI can also use and protect certain business functions like financial services, fraud detection, retail purchase predication, and online customer support.
Artificial Intelligence uses algorithms to mimic human behavior and thinking. Simply put Artificial Intelligence is a machine behaving and thinking like a human.
With advancements in machine learning, deep learning, and big data, AI is bringing a paradigm shift in every business industry be it finance, service industry, logistics or any other industry.
Let's Discuss How AI improves customer experience.
1.Empower Self Services(ChatBot and Virtual Assistant)
Customers are getting serviced by AI-enabled chatbots. These chatbots analyze the millions of customer interactions they have every day and try to improve their own services.
According to Gartner Predication, from seven-year ago shows that by 2020, 85% of customer relationships will be managed without the involvement of human interaction. Although the estimate has not come to fruition, the growing power of AI and chatbots can't be denied.
2. Customer Support
With prebuilt chatbots and voice-enabled smart AI such as Alexa, Siri, customers will be able to interact with AI just as they engage with real customer support executives.
3. Automated Assistant
The global AI Market is expected to be $60 billion by 2025. With automated assistants, customers can simply provide a voice command to Alexa, Siri, Google Home, etc, and pay bills, book movie or flight tickets and avoid the hassle of doing it manually.
4. Providing Happy Customer Services
Let's be honest: it's inconceivable for customer service individuals to be "on" all time. The majority of us have had some terrible experience that probably driven us to "quit" whatever organization we were communicating with at that point. The advantage of AI, in any case, is that it doesn't get disturbed. Despite the fact that it has the ability to learn emotional intelligence, it doesn't get bothered like we humans do. That gives organizations peace of mind that their agents will consistently be thoughtful and accommodating—and their clients will consistently leave cheerful feedback.
5. Real-time Insights
AI can share actionable insights in real-time. By analyzing how customers are interacting with various aspects of business and by performing deep data analysis, AI can provide valuable insights for marketing, finance and customer services, and product development.
6. One-Click Answers
With chatbots, AI can provide one-click answers to some of the most common customer queries ever asked and provide instant immediate answers or service. For example, by simply typing a few words you can order food online in various food delivery apps, providing instant and unmatched convenience.
7. More Personalization
With deep data analysis, AI can predict the user's needs, preferences and provide them to them. For example, certain users might like to buy clothes in a particular color, so the AI will provide suggestions of the same color in the e-commerce app.
8. Automation
Sending out emails, posting on social media, wishing customers on their birthdays and anniversaries, with AI you can create a personalized experience with your customers.
Conclusion
With AI the businesses today are trying to win the digital battle for customer satisfaction and repeat business. We provide comprehensive support to small and enterprise-level businesses with their AI development services with our chatbot development services, AI-based app development, and machine learning development services. Contact us for a free, secure, and personalized requirements assessment.
Posted on February 11, 2021 by Keyur Patel
You might also like