Developing Your Own Custom Podcast App in 2023
Mobile app development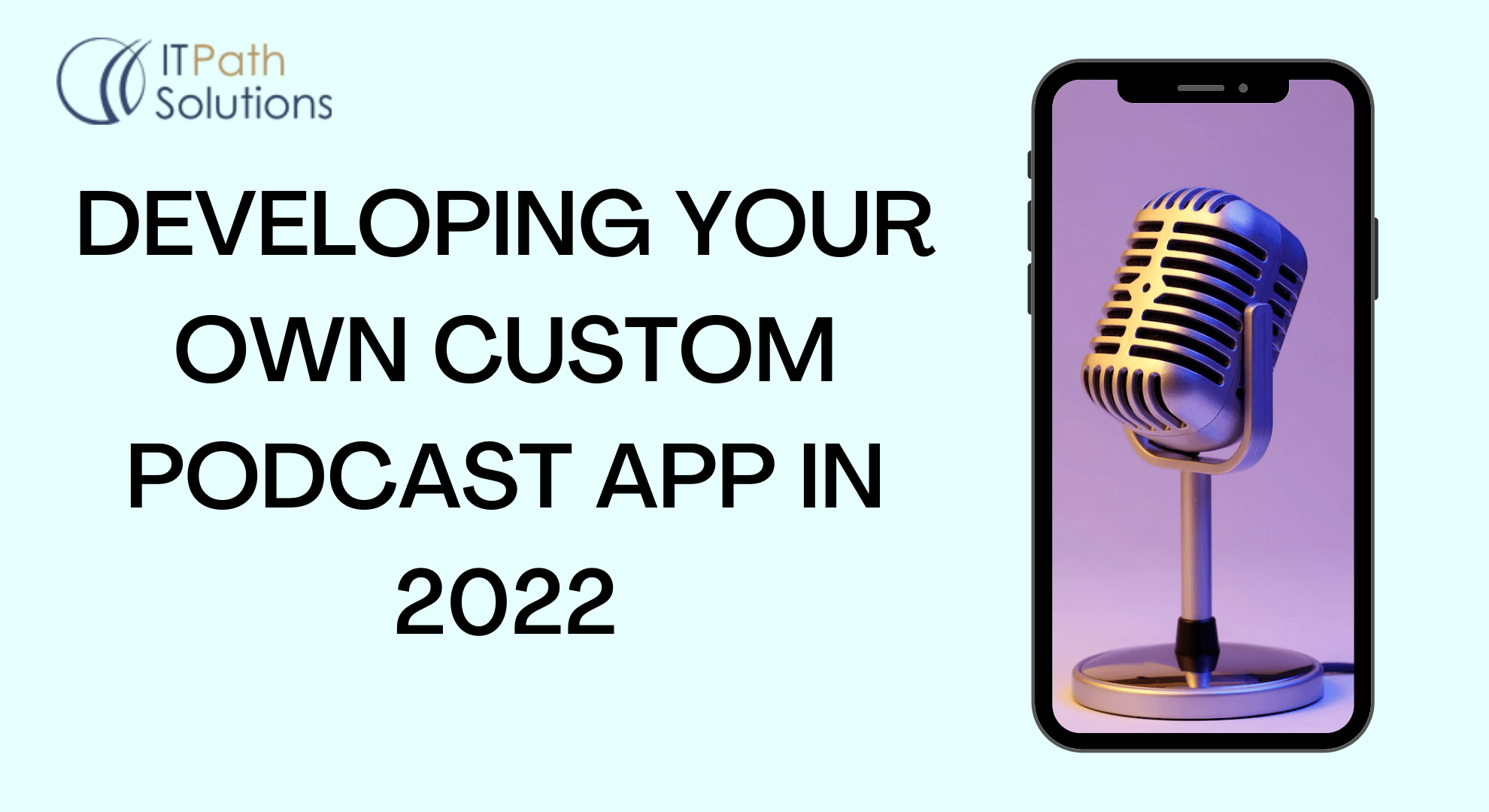 Custom Podcast App Development
Podcasts are gaining popularity across the globe. Many users are joining in the podcast revolution and starting their own podcasts and listening to their favorite podcasts while working, driving, or doing their day-to-day tasks. Podcasts are available for stories, business, personal chats, and informational podcasts on various topics such as economics, politics, and history. 
As per the verge, the podcast industry had generated $1 billion revenue in 2021. As such the podcast industry is growing by leaps and bounds and will continue to grow even in the future with the increased usage of mobile phones and ear pods.
Market Growth and Stats About Podcasts 
During the lockdown, podcast usage had rapidly grown across the world as people were locked inside. According to the stats, the numbers of podcast listeners have grown massively in 2021, the monthly US podcast listeners rose by 10.1% YoY (year-over-year) to 117.8 million. The growth is driven by both young and older generations who are switching to podcasts.
As such providing a platform on which users can offer podcasts to a burgeoning listener's base can be useful. To design and develop such custom apps, you need to keep certain features in mind and include them in the various versions of your app. Let's discuss each of these features in short detail.
Key Features of Podcast Mobile App 
User Profile Dashboard
Under this feature, users can register into the app, and manage their profile such as maintaining the podcast categories of interest, general settings, favorites list to listen, and downloaded podcast, etc.
Subscription
This feature allows users to subscribe to a podcast channel they like or want to listen to on a regular basis. Users can pay monthly or yearly fees for subscriptions into the app for the channel if the channel provides premium subscriptions.
Smart Search
Podcast apps can offer smart search features so users can search various podcast categories, speakers' names, episode numbers, and many more categorizations and filters. You will improve the end-user experience with this feature.
Podcast Recorder and Editor
This feature allows users to record and edit their podcasts and share them with other fellow app users. This feature will enable users to become podcasters themselves from just podcast listeners. 
Podcast Library
With a Podcast library, podcasters themselves or other users can create a podcast library of various podcasts that they think are worth recommending. The library can be either private or public. 
Basic Audio Editing tool
Audio editing tools can be useful for uploading the podcast, improving its sound quality, cutting out unnecessary bits, and other enhancements like adding background music. 
Download the episode
This feature allows users to download their favorite podcast episodes. The app developers need to make sure that this doesn't lead to piracy by securing the downloaded episode with encryption. 
Podcast Management
Podcast creators can upload episodes, build different albums, add descriptions and create a podcast channel through this feature. 
Loyalty Program
Loyalty programs are a great way to make users stick around. You can offer special reward points and free access to premium audiobooks for your loyal customers to increase and retain your user base.
Real-Time Analytics
This feature enables admins to track the app performance by analyzing key metrics. For Instance, he can find insights about the new users, top-rated podcasts, total number of download times, and other user behaviors to improve the app.
Promotions Tools
Leveraging different marketing and promotion tools like emails, text messages, calls, etc., the app owner can significantly boost the app engagement rate and increase podcast listeners.
How to Monetize the Podcast App Development Solutions?
In-App Advertising
In-app advertising offers a great way to earn money via apps. You can display ads for other brands or services on your app during the podcast.
Sell Advertisement
This is a great way to monetize an app and earn a steady income. By this option, you can showcase images, banners, or brand videos in your podcast app from relevant podcasters in exchange for a predetermined fee.
Premium Content Model
Another popular model for monetizing podcast apps is to provide premium paywalled podcasts and ads-free experience.
Final Thoughts
Leading big brands such as Pocket cast, Apple, Google podcast & Spotify, and others have given provided some amazing platforms for the podcasts space. As such you need to create a custom app that can challenge the established brands and make a space for yourself for a successful exit or a good positioning. 
You need the steady hands of experienced custom app developers and a unique marketing strategy to pull this off and to go after the low-hanging trees of various communities and user interests not penetrated by the established brands. 
Do drop us a line to discuss this idea further.
Posted on May 17, 2022 by Keyur Patel