All You Need To Know About Solution Specific Mobile App Development
Android Development, Artificial Intelligence, Augmented Reality Development, iPhone Developer, iPhone Development, Mobile app development, Uncategorized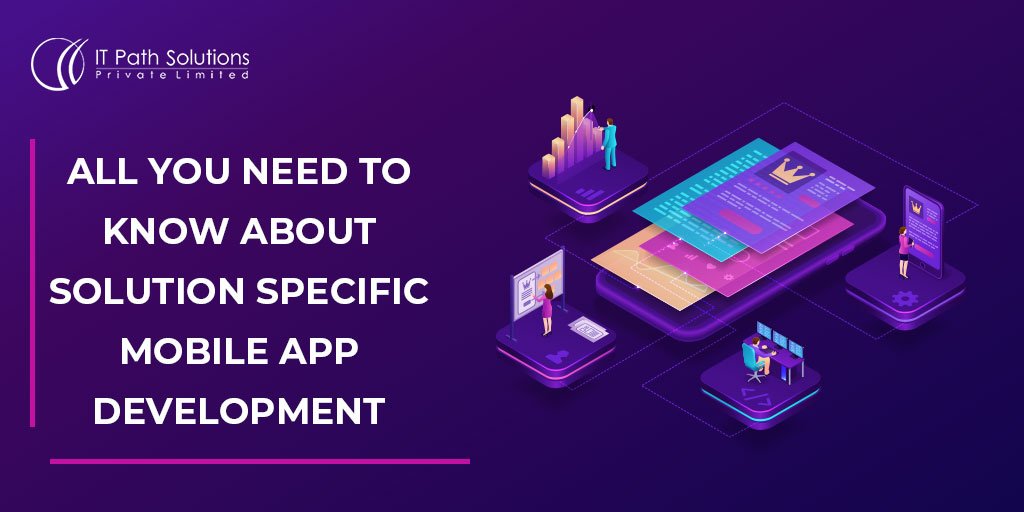 Post the Covid-19 pandemic, the market situation for mobile app development solutions has changed drastically. There is an increasing demand for grocery and health sector apps and some sectors have become affected due to current scenario. More and more people are today opting for solutions on their smartphone instead of having to open their laptop/PC. So if you have a solution in mind fitting with the current market trends and situation, then make it responsive and mobile-first to generate best of revenue by getting a free quote from IT Path Solutions.
The modern mobile app solutions provide almost every feature imaginable. From basic UI/UX to advanced backends, secure and encrypted connections and ability to integrate advanced features such as AR/VR and location based tracking and IOT capabilities.
The era of generic mobile app development is coming to an end. Clients and mobile app development companies prefer to start with something prebuilt, add some customization and launch the app quickly instead of going into the black hole of an endless development cycle.
With a prebuilt solution, a customer can simply pick and choose just like he would from the menu at a restaurant of the components and specifications he wants for his app. This allows him and the mobile app development company to be on the same page regarding the final version of the app and its features and functionalities.
Following are the latest trends in mobile app development and solutions to consider.
Fashion and clothing industry is going online
With the retail outlets becoming riskier, more and more brands are opting for an online presence. Online shopping feels more and more safe to customers as compared to crowded shops, and this is the best time for e-commerce websites for any niche be it clothing, furniture or other household essentials. So if you were planning to take your brand online through e-commerce, this might be the best time with the help of Fashion Apps development. E-commerce also has a feel-good factor associated with it, as customers feel safe and their needs fulfilled.
Grocery Apps
More and more people are opting to buy grocery online. Everyone loves the idea of daily essentials delivered at their doorstep especially in the current situation. Even after thepandemic  situation is over, having all your needs delivered as your doorstep is much more appealing to customers and once they get habituated to it, the need in future will only increase even after the pandemic is over. You can integrate latest technology trends such as Cloud POS along with your existing grocery app development and leverage the benefit of this very trending market right now.
Health apps
People have become aware of their health and immunity and due to WFH they have leisure for fitness as well. Being fit and having high immunity has become a necessity today. So health tracking apps are the latest trend.
Health apps development can offer constant monitoring of basic parameters such as oxygen levels, blood pressure, insulin levels and a centralized storage of the entire medical history including all the tests and relevant documents such as insurance papers.
Fitness Apps:
Being fit and healthy is a necessity in our fast moving age. With fitness apps development, people can do workouts from home, learn yoga and aerobics and other specialized form of exercises and hire personal trainers, get custom diet plans and recipes and monitor their body transformation journeys.
With gyms being closed and people need to utilize indoor spaces more than ever, well developed fitness apps can really take off.
Restaurant Apps
People still prefer to buy food online, restaurant have still not become crowded as before. This is a very emerging market right now and if you can provide the latest features such as online payment using smartphone, Suggestions based on current location and restaurants available in the location, your app might be the next game changer in this market.
E-learning apps
With the schools and colleges being shut down, there is an increasing demand for educational apps that provide the same feeling as going to school/college to both students and teachers. Apps that are user friendly and are easy to learn obviously has advantage over complex learning apps. High level video streaming at low data cost is the main point to look out here because students receding at remote location may or may not have access to high level internet services such as Wi-Fi.
Tourism Apps:
While the tourism industry is taking a breather due to the pandemic, when the industry resumes in full swing, providing well developed apps with custom features as travel plans, travel itineraries, tour guides will be a massive requirement for the ever growing tourism industry.
Jewellery Apps:
The jewellery sector is a new entrant in the mobile app solutions field. Because jewellery is not easy to ship, jewellery industry was a bit hesitant in getting on the mobile app development cycle. But because the deliver systems have now improved and customers do expect E-commerce to provide nearly everything, it has become a necessity for the jewellery industry to create an app as well. One advantage the late entry of jewellery industry that they have utilized is that they are using many advanced technologies such as AR/VR and IOT from the get go. Instead of adapting it like everyone else.
Blockchain, personal finance, stock trading. There are many types of personal finance apps solutions that can be developed by experts like IT Path Solutions that can help users manage money, pay bills, manage loans and debt and perform stock trading and plan for retirement.
With 128 bit or 256 encryption, both sides can conduct secure and safe transactions while keeping sensitive financial information out of the purview of the hackers.
Summary:
Every industry is wanting to stand out and deliver personalized solutions to its customers. With smartphones becoming ubiquitous, more and more people can be connected through smartphone industry.
Don't let your app idea be used by someone else or let it due out! Contact mobile app experts like IT Path Solutions today!
Posted on September 15, 2020 by Keyur Patel