A Short Guide On Hiring Dedicated Developers For Your Next Project
Hire Remote Developers, Hiring Dedicated Developers, Mobile app development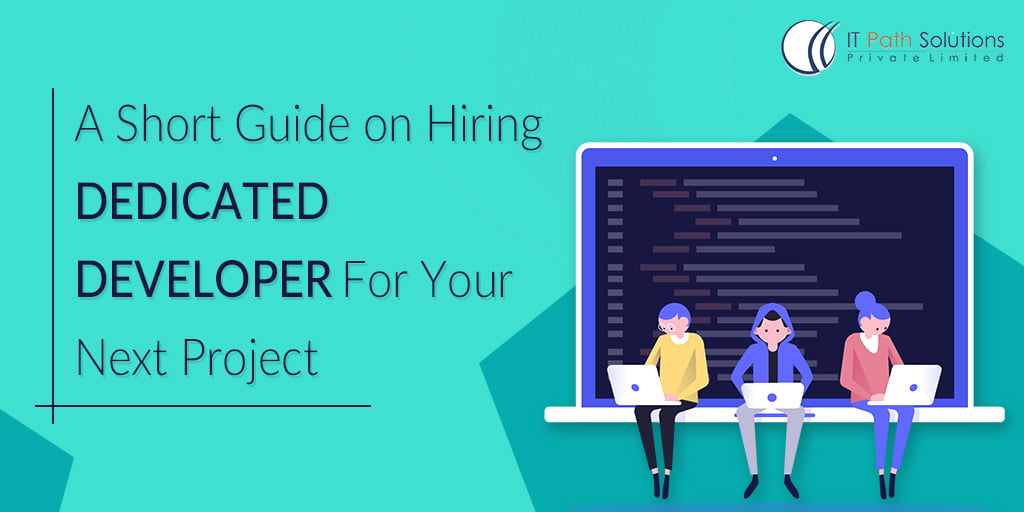 Hiring Dedicated Developers
The Mobile app development market is estimated to reach $400 billion by 2026. Driven by businesses of all sizes, from small scale startups to large scale enterprises recognizing the need of having their business enabled by apps and websites.
For businesses that don't have inherent technological capabilities to develop their own apps or websites, they need to take the help of expert mobile app developers like IT Path Solutions.  Most companies choose between two models of hiring developers:
Creating & hiring an offshore team
Providing requirements and letting the company develop it
Both of these models are different and dependent on many factors such as:
The scope of the project: If the scope of the project is quite large and will be an ongoing basis, then dedicated developers are needed.
The requirements of the organization: An organization requiring multiple modules and technologies needs more hands on deck and ongoing involvement with the app development company.
Skills of the developers: Full-stack developers can handle all types of complex and varied development requirements for apps and websites, meanwhile specialized developers can handle complex challenges related to specific technologies.
Possibility of changes and new versions: An app or website that will need constantly new iterations and version changes will require a dedicated team that keeps the development process ongoing.
While hiring any team comes with its won challenges, there are some quick tips and tricks that you can use to hire the best possible team for your requirements for app and website development.
1. How to make a choice from the freelancer Vs Software development company
First of all, choose whether you need to hire dedicated developers from a software development company or need to give your million-dollar project in the hand of a freelancer. Hiring developers from IT company such as IT Path Solutions offers various benefits in the comparison of freelancers. While freelancers seem attractive, they are not well versed in structured work processes that specialized companies provide and the consistency in quality and services they offer to all their clients.
Offshore software developers can provide you top coders from their extensive employee options.
You can replace your team as per the project progress and needs
Dedicated developers work on your project at your convenience and time zone
Fixed-rate payment for the delivered work
2. Recognize the Key Goals
It is fundamental to know your project's objectives before you hire a dedicated developer or software company.
Once your project is effectively planned and properly standardized, You may need to find expert developers or programmers to satisfy your business requirements with your app or website's reasonable objective. that is the reason it is fitting to choose a company that follows the best software development practices to develop modern app solutions.
For instance, If you want to make the next million-dollar cross-platform mobile app development. In this way, it is critical to pick a company that offers expertise in cross-platform top mobile application development frameworks for app development.
3. Diverse set of abilities Under One Roof
At the point when you are selecting the developers, apart from the obvious extensive experience required for the project's technology,  filter around a range of abilities such as problem-solving skill, accuracy, and attention to detail, information on development tool, and should ensure the latest software release tested and deployed to an application server.
4. Be Reasonable About Estimating
Mission creeps happen with the smallest and the biggest app development projects. Be humble and flexible about your budget and try to be as specific as you can beforehand while keeping some buffer.
5. Never Compromise On Security
There are steady assaults on irregular sites and applications by hackers, and it might happen that your important information may leak. So, you should give focus on choosing developers, who have in-depth knowledge and extensive expertise in developing foolproof security for your apps.
6. Communication is the key
Regardless of whether you're straightforwardly communicating with the specialist service provider or over an email, communication assumes a vital role and offers you experiences into their professionalism. But direct contact with your development team is a brilliant thought for hiring dedicated developers from a company and makes the application development quicker and more efficient.
Building up a highly-functional and secure application is genuine work. The numbers of IT   organizations in the administration market make it trying to choose the right web and mobile app development company. But if you follow the proper procedure while hiring a dedicated developer, it turns out to be simple for you to choose the developers that perfectly fits your business requirements.
A developer resembles a planner that builds up the structure of your application. Dedicated developers are generally referred to as an architect that assembles the structure of your item – application. In case you're intending to make your development venture smooth and searching for screening hidden talent, at that point hire dedicated developers from the top web and mobile app development company to pitch your business on the top.
Posted on November 5, 2020 by Keyur Patel
You might also like