A to Z of hiring a Magento Developer : How to build your Dream project in Magento
Magento, Magento company, Web Development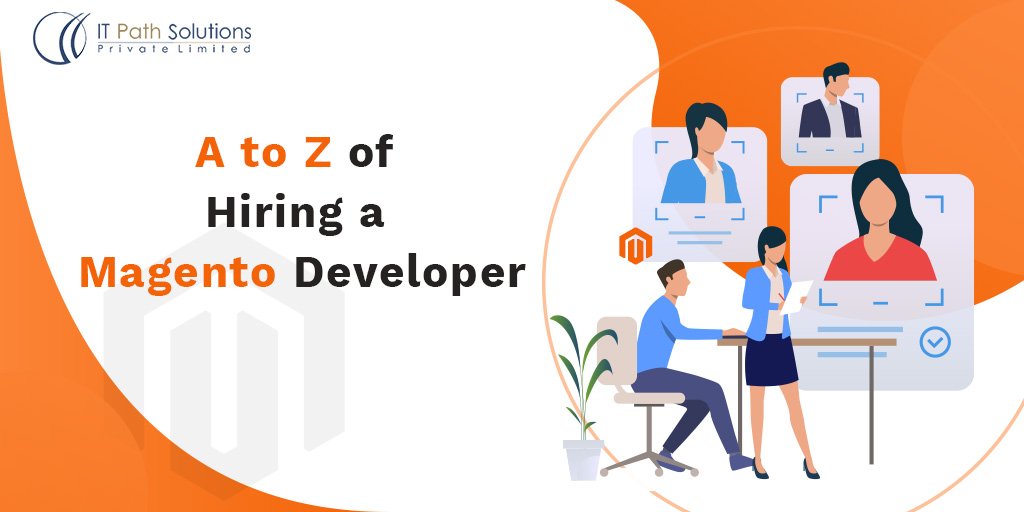 So, you have decided to use Magento development for your next ecommerce project. Great decision! But what comes next is as crucial as choosing the right platform for your project, and that is hiring the right developer(s).
There are multiple reasons to hire a Magento developer instead of developing it in house or doing it yourself. First of all, developing a website takes your time and manpower away from your core business functions, even if you hire Magento developers as in house employees, you will need to provide them with full fledged employment despite the limited duration of their use. Not to mention that their efficiency and technical know how can only be guessed beforehand, there is no way to know for sure until you hire them.
Hiring dedicated Magento developers
Hiring dedicated Magento developers who are certified and experienced allows you to save time on the project, the final website will be more feature rich and user-friendly and you will not have to compromise on your requirements as you can specify your needs beforehand. Here is a brief guide on how to go about developing a Magento website with the help of expert Magento developers. First thing to keep in mind is the budget. If you want to hire the best of developers, you should be able to spend a reasonable amount of your project cost in developing, because it will directly affect the quality of your project, your branding and marketing efforts and in the long term, revenue generated by it.
Magento provides certifications to developers, and if you hire a certified Magento developer from a reputed Magento development company, that will be cherry on the top of the cake, because it declares not only the developer as an expert, but also certified developers will be able to develop project more efficiently, and they will be able to handle errors and bugs easily due to their experience and expertise delivering you a robust and well-developed, feature rich Magento powered ecommerce website.
There are two ways to go about developing your Magento website. You can hire a dedicated Magento developer from a reputed magento development company or build a offshore team of Magento developers for a more custom build and hands-on project management. Hiring an offshore team will be a major responsibility as you will be billed according to their time and not project goals. You must have a very clear idea of how and what the team will work on before hiring them otherwise there is a massive risk of budget overruns. For shorter projects with a predefined objectives and minimal customization, you can hire a dedicated Magento developer and give him a detailed instruction of your objectives along with a reasonable and mutually agreed upon timeline.
Most reputed developers will hand you with a document that outlines the project feasibility, challenges and estimated timelines along with cost before the project begins so that you can control how the final website will be before the project commences. If your project is long term and if the budget is feasible, you can also go with a team of developers containing experienced as well fresher developer(s). For long term projects, hiring an offshore team of Magento developers makes sense.
You should ensure good management of projects when hiring such a team and there should only be one head manager, who would be your direct point of contact, and they should be available to make things easier on your end. We at IT Path Solutions provide one point of contact for hassle free offshore team management for all our projects, including Magento. Other thing to keep in mind is marketing.
If you are clear about the kind of marketing required for the project in hand, then it is advisable to hire the marketing team that will take care of the target audience and traffic generation for your site. But if you are still unclear about the exact target audience, you may need to do some markets research beforehand. You can do marketing once the project is completed using your own resources or by hiring digital marketing experts. Ideally, you should target social media, Search engine marketing and SEO that is Search Engine Optimization for a complete digital marketing strategy.
Testing is other thing to keep in mind when developing with Magento. It may seem like over boarding on budget because not much less developing/coding is required for Magento. But it always helps if you hire someone that is expert in PHP as well has Magento expertise. The same goes for testing, the store may seem to run bug free. But once the products are uploaded, and users start using the website, testing and detecting bugs will be needed. So, it is advisable to have testing team accommodated as well as developing team.
Basic testing methods and strategies for solving bugs and errors should be cleared before hiring a developing team. After the development, once the project is live, a support team must be deployed to look after the customer queries and any glitches related to payment transaction. If you want to provide a high quality experience to your end users, then you must make sure to have 24X7 support given to your customers along with robust backend management. This way, it will build a trust factor for your new customers and old customers will continue to have faith in you.
After considering all the points above, the things to keep in mind is to always have one direct point of communication with your developing team and making sure to give them proper requirements regularly. Continuous communication of your requirements and ideas, as well as communicating about their ideas and concerns regarding the project, not only helps developers work more efficiently, it also helps to give you clarity about your project and any unnecessary efforts and early mishaps can be handled easily.
Trusting your developing and marketing team is a must and to build that trust, you should first do your homework and only hire someone after carefully considering all the point mentioned above.
Posted on August 4, 2020 by Nishant Shah
You might also like