Education Apps Development in 2022
Android Development, Cross Platform Mobile App Development, Hire Remote Developers, IOT app development, iPhone development company, Mobile app development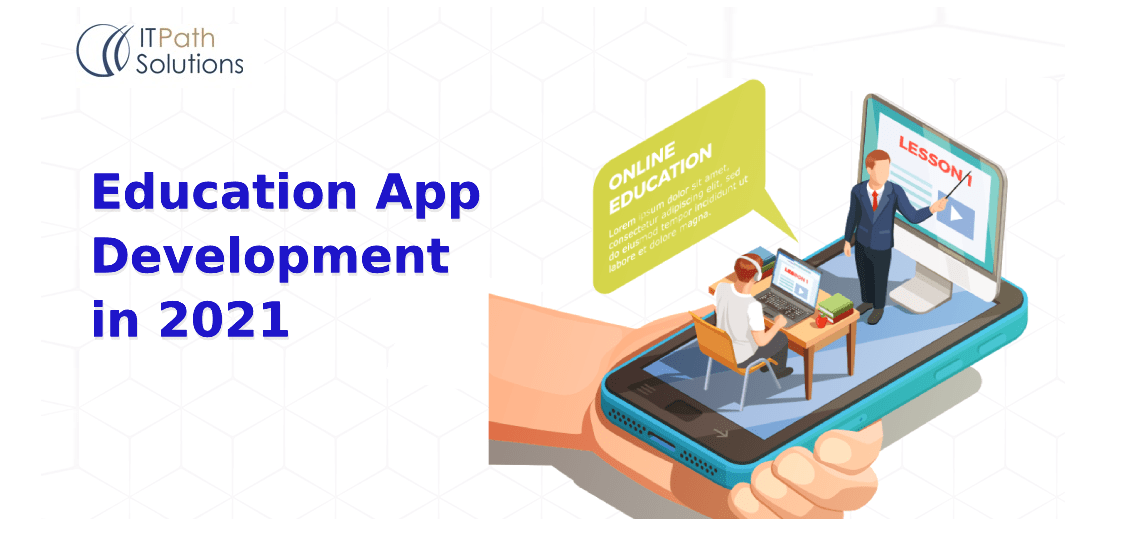 Educational & Learning App Development
The current pandemic has seen a surge in demand for education apps development. While there are various streaming & tutorial apps available to take online classes, the scope of the education apps is not just limited to online classes only, even though it may seem the most important feature seeing the current scenario, as school and colleges are closed.
But even in a non-pandemic scenario, education apps are more than helpful to teachers, parents and students. From keeping track of the attendance to sending progress report personally, to parents, educational apps, can work like a boon for all types of educational institutes and organizations.
Although in the current scenario widely used e-learning apps are the ones that provide tutorials or virtual classroom facility, this are not the only kind of educational apps.
Types of Educational Apps
Virtual Classroom
This kind of apps are the most trending ones right now. One such example is Google classroom. Apart from assigning homework and checking it, the most important feature of this app is that creating a virtual classroom is very easy. Teachers have to set up a code and share with students. Students can join using this code.
Tutorials apps
Tutorial apps were kind of pioneers in establishing the education apps market, on the google play store. Examples including apps like Udemy, working on a any user can upload tutorial democratic model , or specialized apps like edX, that has tutorials from top institutes like MIT, Harvard etc.
Pre school apps for toddlers
In these type of apps, the focus is on graphics and interactive learning to capture the minds of young children and teach them the lessons as per their curriculum.
Specific skill based apps
For example, apps that provide students with the experience of learning astronomy or other specialized subjects with content provided by experts in the field.
Standalone apps for institutes
Institutes can perform administrative tasks such as fee collection and attendance reporting along with apps that provide class schedules and provide a common platform for teachers to communicate.
Playful Learning
These type of apps are designed for younger children who are taught lessons using animated characters, games and interactive but fun tutorials.
Library apps
These type of educational apps host a library of books and tutorials often with commentary from professors and teachers for better learning and understanding of students.
Online class management
These types of apps are designed for teachers so that they can keep track of student attendance, upload latest test performance and have a centralized database of all student activity and behavior for when needed.
Online coding apps
These apps are designed to teach kids coding. A platform for coding and video or other type of tutorials are added to help kids understand coding and then practically build it within the app in the coding environment.
How an Educational App is Developed
Expert developers like IT Path Solutions will consult with the educational institute in depth and design a requirements specification document that will outline how the app will look, how it will function and what type of users it will have along with all the app functions and the back end and the front end technologies to be used for the educational app solutions.
The technology for the educational app will be divided into two:
Front end: This front end consists of technologies such as HTML, CSS and Content Management System such as WordPress for building the look of the website or the app. Many mobile app developers use pre built solutions to develop their educational apps but these apps don't offer any differentiation or special features to make the app stand out. It is always better to go with custom educational app solutions over pre built apps as they offer more features, more customization and more control.
Back end: The back end of the educational app will consists of actual user data stored in secure and encrypted databases, security applications to prevent hacking, technologies such as PHP, Java are used to develop a robust back end that responds to user request generated on the front end and uses the well connected back end to perform the user requests.
Benefits of Educational Apps
Seamless communication: with smartphones available with every parent, parent teacher communication becomes instant and parents can keep track of their child's educational growth and get necessary and instant feedback from teachers.
Instant announcements: Imagine the school is going to be closed tomorrow due to adverse weather. In such cases you can just roll out a push notification and all the parents will be notified
More Learning Resources for Students: with these apps, schools can roll out educational material such as books, video tutorials and online learning for its students, enhancing their learning experience and providing a needed learning boost during exam time.
Online Fee Payment: with an educational app, a school can collect fee from parents online, reducing the hassle o paying the fees in person for busy parents.
Conclusion
For any educational institute looking to enhance the learning experience for their students, educational apps are a must. Moreover, even parents expect better communication from schools by the use of educational apps. If you are looking to develop your own educational app, contact IT Path solutions today.
Posted on December 9, 2020 by Keyur Patel
You might also like