Key Reasons To Develop Your Own Fleet Fuel Management App
IOT app development, Mobile app development
Fleet & fuel management with the help of technology is becoming an integral part of the logistics and transportation business. With Fuel delivery app development and fuel delivery software, a business can track, monitor, and optimize their transportation fleet in real time when autonomous vehicles become available,
As per surveys, the global logistics industry was worth about 9 trillion USD by end of 2018. The large-scale utilization of logistics ensures that the size of the industry is always going to be massive and the opportunities presented will be large scale as well.
Because of the large scope and size, there is also going to be a lot of waste and under or over utilized resources. With the advent of mobile apps and IoT app development, we can now fulfill the gaps related to fuel and fleet with fleet fuel management software app development so that optimum utilization of fuel and fleet routes can be done in realtime.
Fuel & Fleet Integration App Development

By using mobile apps and IoT devices, you can connect inbuilt vehicle systems of your trucks with GPS, IoT devices placed at fuel stations and warehouses for finding optimal routes, checking vehicle fuel levels in real time, finding the cheapest nearby fuel stations, and total miles traveled calculated by GPS. This fleet fuel management system can perform multiple functions.
The Main Benefits of Real-time Fleet Tracking System are:
Better Coordination

Scalability

Legal Compliance

Easier Border Crossing

Fuel Management

Real-Time Route Management

Last Mile Tracking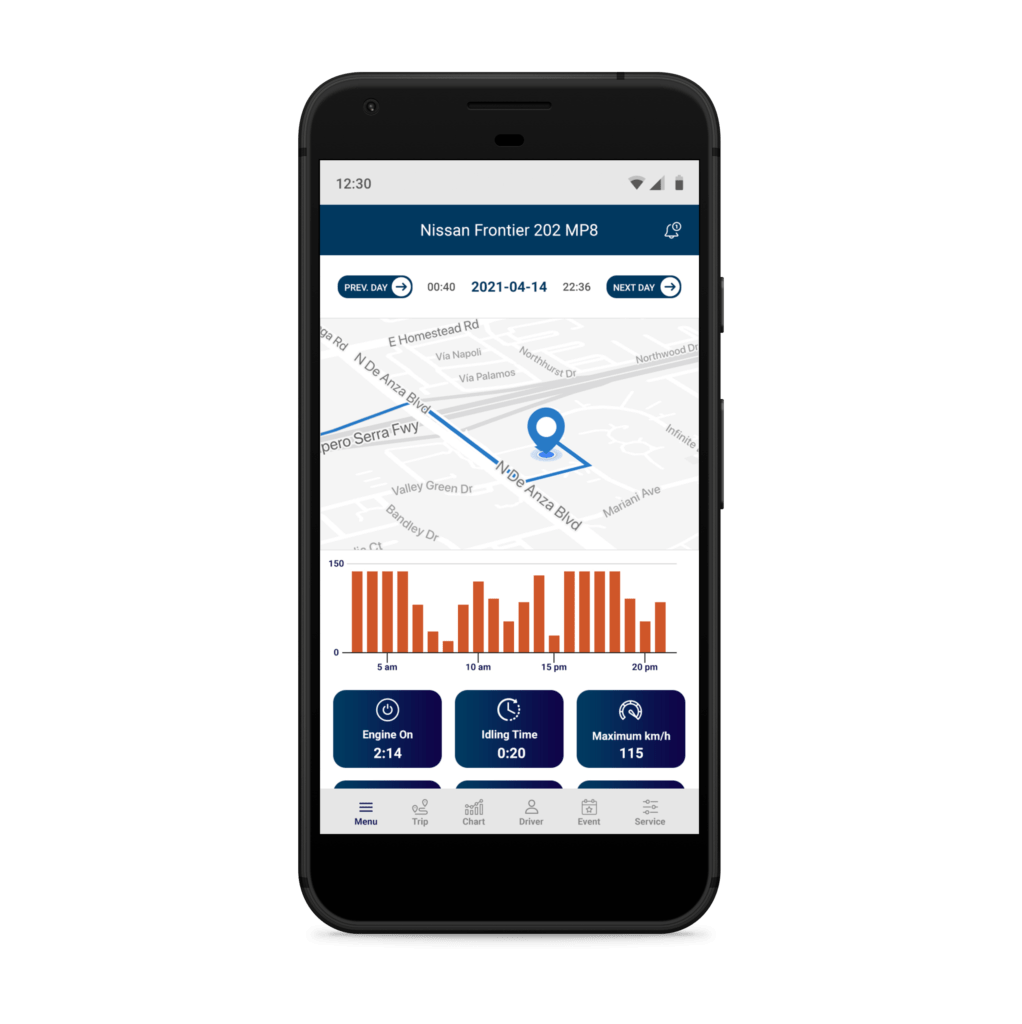 Better Coordination: 
With real-time GPS tracking and integrated onboard vehicle management, you can track your fleet, their route, and their fuel requirements. Make plans and changes accordingly. The top-down one-sized fixed approach doesn't work in the fast-changing fields of logistics. With fleet management apps you can create an open-source architecture that responds to events and needs in real-time.
Scalability:
Any logistics business will scale up and scale down due to business requirements, customer demands, weather, and festival seasons. With a well-built fleet management system, you can quickly scale up the system and connect more vehicles and their routes while also having the option to scale down once the surge in demand is over.
Legal Compliance:
By having a centralized record of all your vehicles, you can keep their purchase documents, licenses, and other legal documents in one place and provide them to relevant authorities when needed. With telematics fleet management solutions, companies can keep track of their vehicle's location, revenue, and operations.
Easier Border Crossing:
Your fleet may need to cross domestic and international borders as part of their route, by having the relevant documents in one place, your fleet can easily navigate between borders. It allows you some independence in terms of having the same drivers as even if the drivers are changed, they will have the relevant documents with them despite the vehicle assigned to them.
Fuel Management:
With a centralized system for fuel tracking, the fleet manager can check on the fuel usage, mileages each vehicle is getting, and which routes are using the optimal fuel. This feature alone can save more money in a year than the cost of building the fleet management system.
Realtime Route Management:
With real-time route management for your fleet fuel management system, you can control and manage your fleet for traffic jams, diversions, weather, and other adverse events.
Last Mile Tracking:
By using technologies such as IoT and RFID you can track packages and consignments to their last destination, providing end to end delivery and logistics solution which can enhance business offerings for any logistics based business.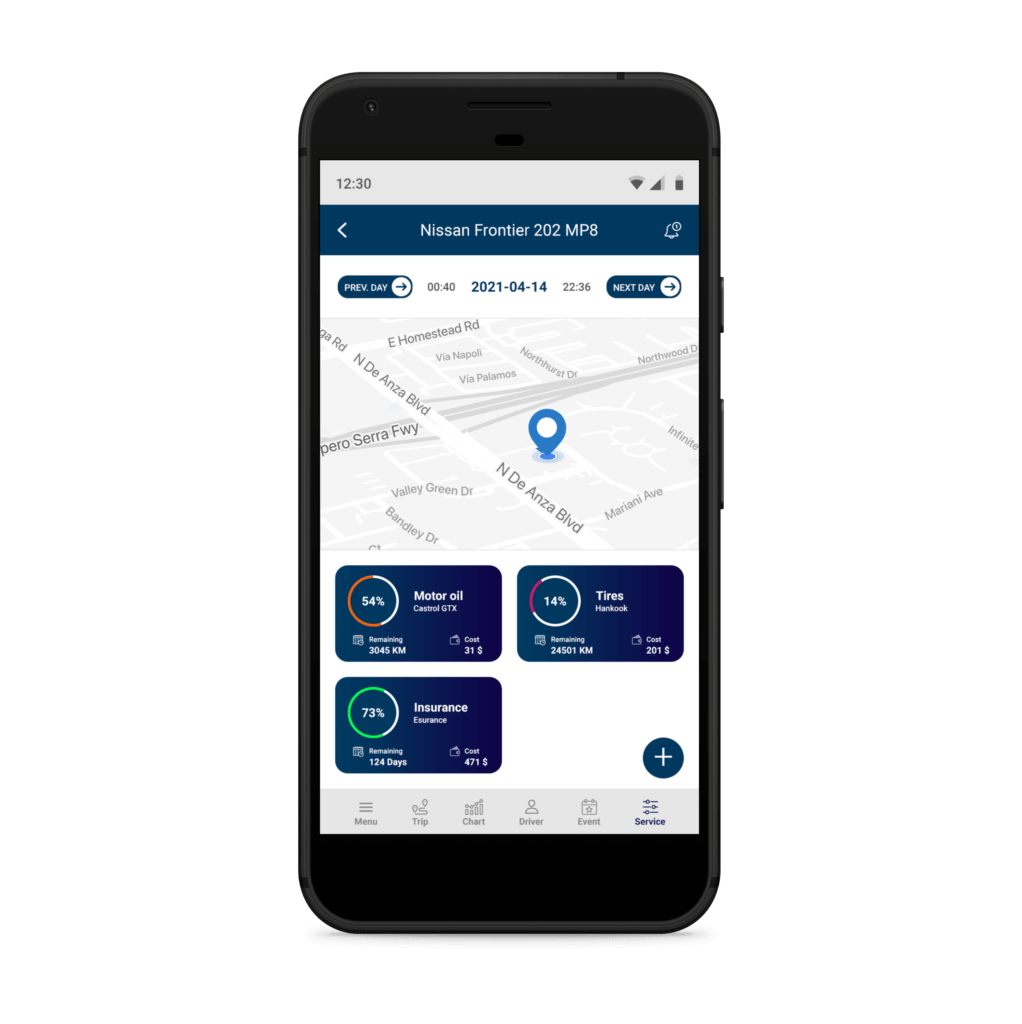 Trip Details in Proposed Fleet Fuel Management Software
Main Features Of Fleet Fuel Management Apps:
Driver Login:
Each driver will have his/her individual login where they can upload personal information such as names, employee tags, numbers, etc, and add their vehicle and route details.
Vehicle Identification:
Each vehicle in the fleet will be identified with its separate id. Vehicle details such as build, model number, chasis ID can also be added for better tracking.
Availability Status:
The availability of driver and vehicle can be shown in realtime for the fleet manager so that underutilization of drivers and vehicles can be avoided.
Maintenance Schedule:
For each vehicle to perform at its best, it needs to be provided proper maintenance at regular intervals. With Fleet management systems, you can schedule periodic and regular maintenance.
Route Tracking & Management:
For each vehicle, admins can track the correct routes, provide necessary updates through push notifications for any route corrections and track the routes taken by each vehicle in real-time.
Payments:
Fleet managers can send online payments to the drivers for toll tax, fuel, and other day-to-day fleet-related expenses.
Analytics & Reporting:
Fleet managers can have access to periodical reports about the entire fleet, particular vehicles, and drivers and access to generate deep insightful analytics.
AI-Enabled Reports:
Reports and insights can be linked to an Artificial Intelligence platform for hidden insights that can improve the fleet.
Conclusion:
Fleet fuel management systems have the power to transform your logistics business with IoT and telematics. If you are looking to develop your own telematics enabled fuel & fleet management app, drop us a line below.
Posted on March 2, 2021 by Keyur Patel