Create A Custom Professional LMS Like TalentLMS
Mobile app development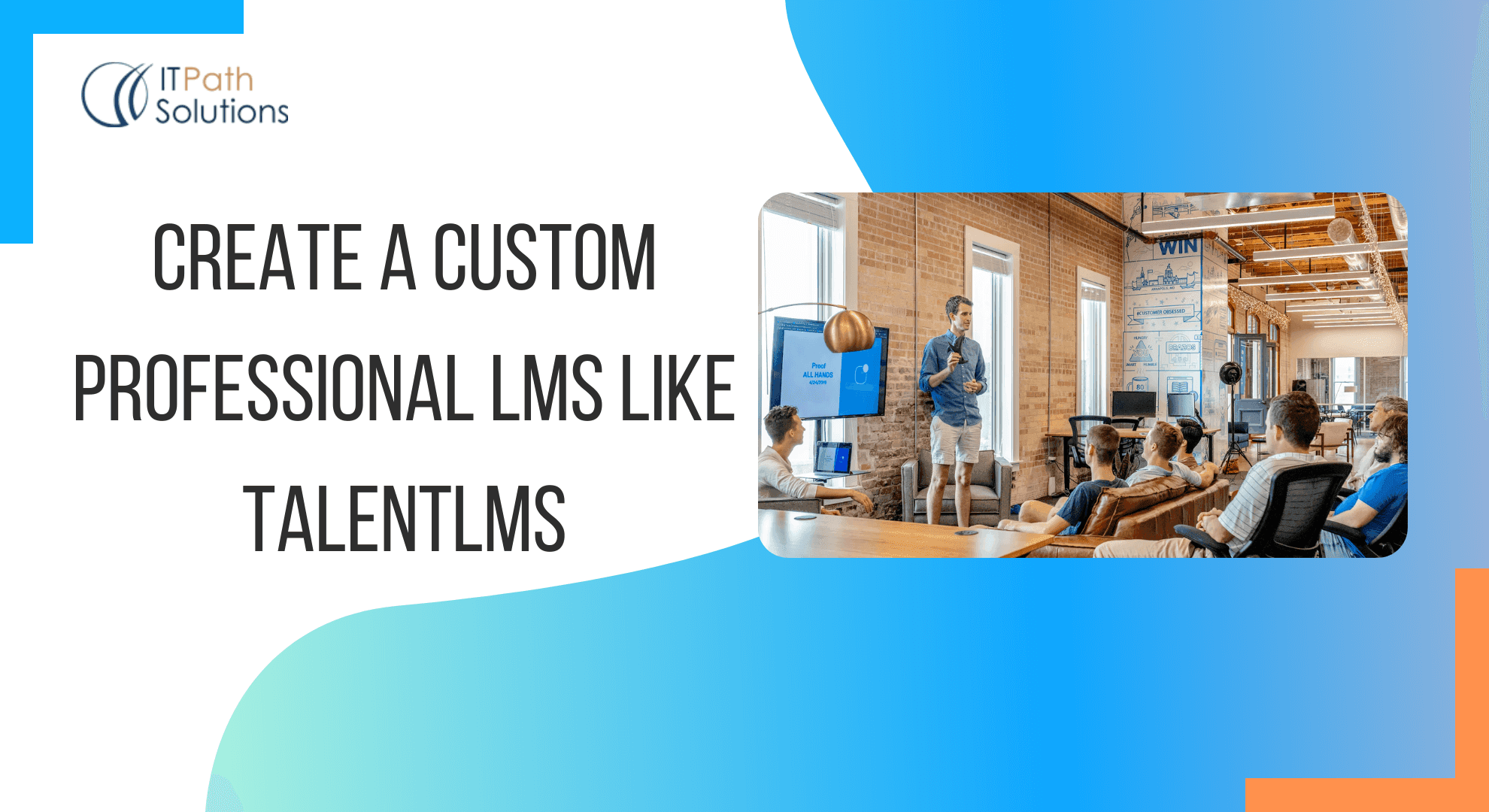 Custom LMS Development
Online Learning apps have come into trend over the last 4-5 years and since then they have continued growing. As per  a statista report, the learning app market will be worth $243 billion by end of 2022. Another report says, that the market will increase by $289 billion in 2024.
Learning Management System can enable E-learning and allow students and teachers to have a classroom session online. These features came into focus due to Covid-related lockdowns when schools and educational institutions were closed. But even in this post-covid world, we are witnessing a noticeable boom for LMS. Platforms such as education apps, online platforms, online tools, podcasts, blogs etc are gaining more popularity day by day. 
Also with remote work taking more and more prominence, employers are using LMS to enforce minimum learning standards, test employee skills and provide training programs to employees who are working remotely. 
Businesses are using LMS to train their new and experienced employees and using them to enforce standard operating procedures. One such app that is quickly gaining market share is TalentLMS.
What is TalentLMS? How does it work
TalentLMS is a learning management system that can be used by any type of organizations to train their employees, provide them courses and increase employee productivity and enforce standard operating procedures. 
As per its website, it can provide LMS for:
Employee training

Compliance enforcement

Regulations training

Sales training

Remote training
As such TalentLMS seems to offer a complete package to corporations looking for a well-trained workforce. It can provide features such as an intuitive interface, multilingual support, provide tests and quizzes and manage the learning milestones of the users.
Key Features of Online Learning App like TalentLMS
Sign-In/Sign-Up
With this feature, users can easily sign-up or sign-in using an email or phone number or through social media. Providing easy logins can help users sign up faster.
Course Search
This feature can allow users to find out new and old courses, search by category and select a course as per their requirements. 
Smart filter option
This app feature allows students to filter and search exact solutions such as  ratings, price, name, and tutors with a few clicks in the app.
Online Exam
With this important feature, tutors can conduct online exams as well as students/users can take online tests to check their performance and results.A certification can be provided based on the exam performance. 
Courses and Tutorials
Tutors can create a list of courses, add certification, and tutorials with a few clicks in the app.
Create Lesson Plan
Using this feature, tutors can create various lesson plans for their courses as per schedule.
Performance Analysis
This feature will help students to evaluate their knowledge of concepts and find out the areas that require more attention. 
Voice Search
With voice search, tutors and users can find anything they want from the app using voice commands. 
Review/Rating
With this feature, students can leave their reviews and ratings on particular courses, lessons and tutors. 
Multi-lingual Support
This feature allows students to explore the solutions with their favorite language.
Stats and Analytics
Using this app feature, the admin can see the user insights, tutors & courses, and other important analytics.
The Right Approach for Developing An LMS
Research the Customer's Needs
Find out the needs of the customers and find out what they need. Listen to their queries and issues and conduct small surveys and find out the main features you can include. 
Select the Right Features
Choose the right features that should entice users and fulfill all their key requirements. Try to find out what are the major features and the development time it will take. 
Finalize the MVP 
It is not prudent to create a final app and keep testing, launch an MVP as soon as possible and take user feedback to improve iterations. 
Finalize the Technology
Do you want to build native apps or cross-platform app? What kind of advanced features can you include and want to include in this app? Figure out these questions with the help of expert app developers.
Final Thoughts
LMS like TalentLMS can be built with the help of expert custom cross platform app developers and by using expert consultation and finalizing the product. There are multiple angles to an LMS but TalentLMS has a B2B approach so that it can place itself in a higher revenue market. There are multiple approaches to custom LMS app development. Do drop us a line so we can explore further.
Posted on August 10, 2022 by Keyur Patel