How To Develop A Feature Rich Medical Test App
Android Development, medical apps development, Mobile app development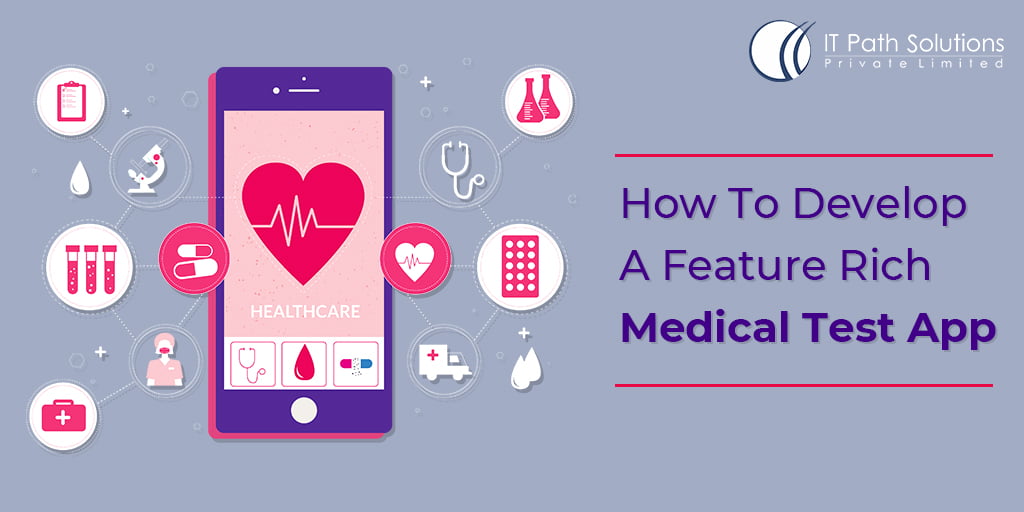 Technology has always played an integral role in providing cutting edge medical services and solutions. Technology has especially come in handy for timely diagnosis of major diseases through x-rays, quick tests, and MRIs. Today when the world is managing a pandemic because of COVID19, timely testing and evaluations are the essential measures that can handle any such crisis.. The mix of medical processes and principles with digital technologies is now proving to be a fruitful and lifesaving endeavor as ubiquitous technological solutions such as smartwatches can double up as heart rate monitors and alerts.
The impact of technology can be felt be in every sector and every process of the medical field. For example, genome sequencing is getting easier, cheaper, and faster. The aforementioned SARS COV 2 virus was sequenced after 10 days of its discovery. Allowing the likes of Moderna and Pfizer/BioNtech to develop a vaccine in days using their cutting edge mRNA technology by analyzing the genome and finding probable weaknesses in the virus. Usually, vaccines used to take up to 3-10 years to develop. Due to the extraordinary technological advances and financial incentives this vaccine was developed inside a year.
One way you can combine medical processes and technology is to develop a medical testing app. An On-Demand medical testing app can be developed for hospitals, clinics, and testing labs. This app provides multiple usage options to the users that can enhance their healthcare experience.
With an on-demand testing app, users can get instant results, real-time tracking and updates, and portability of his/her testing record to any healthcare provider.
Basic Features for a Medical Testing Application Development
Some major features that are a must-have for any medical testing app are:
Instant join/Sign in with social media integration.
Data encryption & security
Portable and easily accessible electronic medical records
Boo medical tests
Lab results access on demand
Push notifications & reminders
Online consultations
Ability to leave reviews for doctors, hospitals, labs
Ability to self-upload reports and documents
Patient health dashboard based on the latest reading of health parameters and tests
Key drivers of Successful Medical Apps:
The key drivers that can make or break a medical app are:
Convenience: The convenience offered to the user in terms of his records, accessing and booking tests and doctor's appointments
Security: Users need to feel completely secure about the app and the most sensitive medical data that they upload. The app needs to be an end to end security and no third party can access the user data.
User Experience: The user experience needs to match or better the offline experience the customer is already having with the healthcare provider for a successful app rollout.
Along with these features, if you are looking to develop a more advanced medical testing app, you can ask your expert app developers to integrate some or all of the following features.
Advance Feature for a Medical Diagnosis Application
Vitals like sugar levels, blood pressure, and cholesterol levels can be tracked and any major changes can be alerted to the user and other parties such as caretakers and doctors with push notifications by the app.
The app will automatically input and compare the most recent tests with the previous test results to measure changes in key metrics and allow doctors to quickly diagnose the patient.
Patients can add their own personal details, likes dislikes, DNR details, details of caretakers and loved ones.
Habit Suggestions & Tracker
The app could have the additional feature of having a lifestyle tracker to improve health-related habits of users such as quitting smoking, reducing weight.
AI can be trained to spot patient health problems, vitals, it can perform a quick diagnosis through the help of chatbots. AI & IoT app development can be integrated with the app for a complete healthcare tracking and monitoring solution involving all concerned parties.
With any advanced AI features available, the app can truly provide the next level of healthcare.
While there are many tempting options to consider when developing your own healthcare app, it is a good idea to have a precise estimate drawn up by experts. Drop us a line below and we can help you design a complete strategic analysis of your healthcare app needs.
Posted on February 2, 2021 by Keyur Patel
You might also like