Develop A Video Conferencing Application Like Zoom
Android Development, Hire Remote Developers, Hiring Dedicated Developers, iPhone Developer, iPhone Development, iPhone development company, Mobile app development, video conferencing app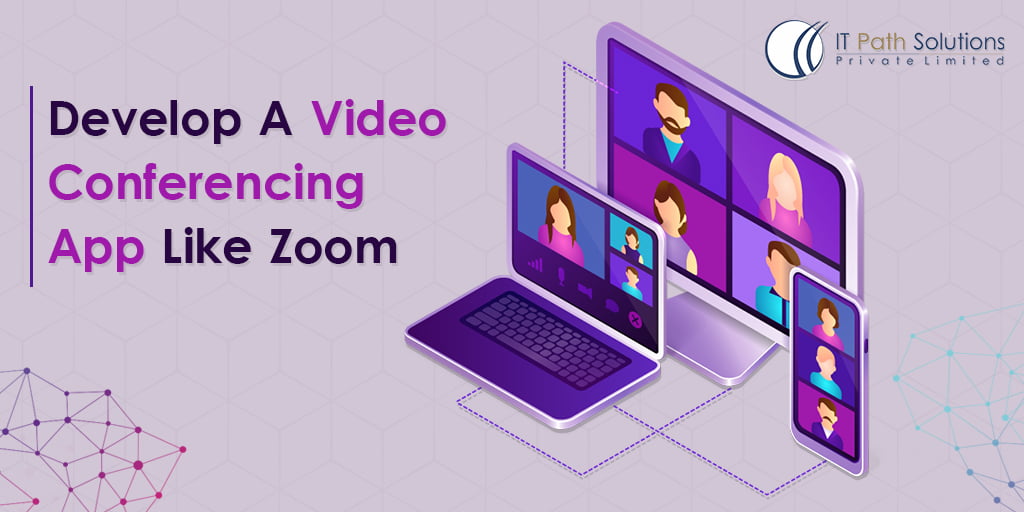 Because of the Covid pandemic, teleconferencing apps such as Zoom, Microsoft teams, Google meet have seen an increased usage. According to Bill Gates, even after the pandemic is over, international business travel will be reduced by 50% as the cultural norm of meeting in person to convey seriousness has been broken.
This new dependence on conferencing apps is upending many taken for granted cultural norms of the corporate culture and giving the app developers of the world new opportunities to make communications app with different needs.
Let us take Zoom App, for instance, The application not only provides the users to communicate with HD video and sound but also supports up to thousands of members participate in a single meeting. As long as they have an internet connection, folks from all over the world can join in a meeting. Turning off their camera and microphone for listening is also available for members.
If an expert app developer like IT Path solutions were hired for developing a conferencing app such as Zoom, this is how it would look like and the features it may contain.
Here are Some Basic Features for developing a Video conferencing Application like Zoom
Screen sharing: Since team members in the meeting are not physically present in the same room, with screen sharing they can share presentations, files, videos and provide a more interactive experience to the participants.
 Integrated Chat: Using these chat features team members of meetings can effectively communicate with each other or one-to-one person.
Mute audio and video of members:- during the meeting, the host feels any participation is disrupting, they have the option to mute audio or video of any members or for better listening and avoid background noise.
Record Meeting: Using these recording features, every zoom meeting can be recorded with a one-click single button, and these meetings all record can be stored locally on the device or on cloud.
Polls: if the host wants to understand members' opinions about a particular topic. Using create a poll feature can gather responses of all.
Encryption: Every Zoom meeting is connecting end-to-end encryption software systems that not allow permitting any unauthorized person from joining your meeting.
Virtual Hand Raising: When the participate team members want to say or express their concern about the specific topics. They can alert message host by using virtual handy emoji.
Expert app developers such as those at IT Path Solutions use various technology stacks to develop such apps.  Mentioned below technology stack can make scalable and rich app with amazing user experience for video calling apps like Zoom.
UI/UX: Use some tools like Photoshop and google sketch to develop the perfect UI/UX outline for your video conferencing app.
Coding: Flutter and native to create hybrid apps or creating platform specific apps such as iOS or android.
Data Analytics: Use data analytics solutions from Amazon, Google, and Microsoft to increase actionable insights from the data of your customers.
Push Notifications: Some Push notification services like Apple push Notification, firebase, twillo can be integrated into an ideal conferencing app.
WebRTC: it is an open framework, (Web Real-Time Communication) that uses third-party APIs like RTCPeer connection, RTCDatachannel, and Mediastream to facilitate enable web browsers and mobile applications with real-time communication.
While this is not an easy task, with the right developers and a product strategy it can be done without major challenges.
Final Thought
Video conferencing is here to stay. These businesses will continue to grow even after the pandemic is over. If you are planning to develop a video Conferencing application like Zoom for your business or enterprise, You can hire companies like IT Path Solutions. We are a trusted firm in the market for mobile app development service for a varied global clientele.
Posted on November 28, 2020 by Keyur Patel