How To Develop Your Own Clubhouse Like App
Uncategorized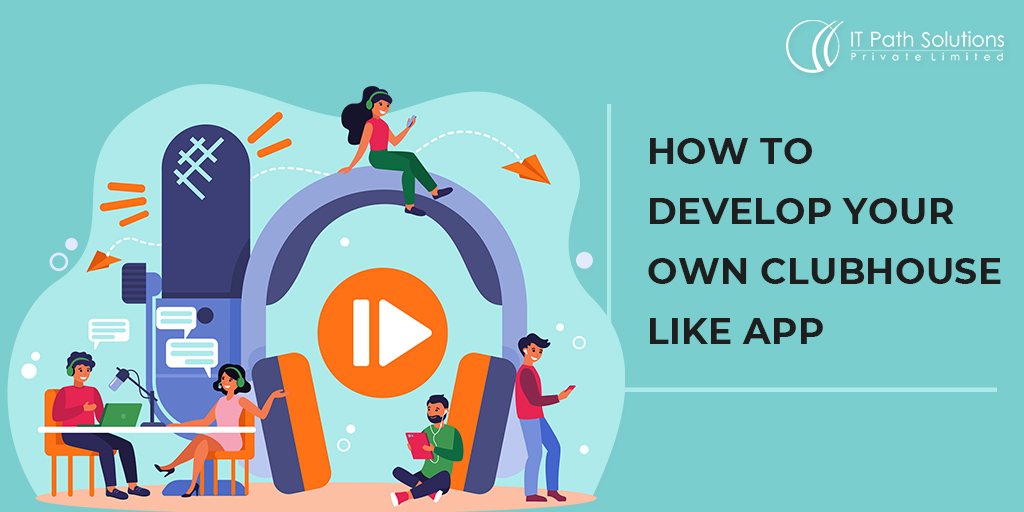 Clubhouse is the most buzzing app on the iOS app store right now. From top celebrities to top entrepreneurs, everyone of significance is suddenly on Clubhouse or raving about Clubhouse.  Right now Clubhouse is still in beta and only available for the app store and not Android. The app makers are planning for clubhouse app development for Android. Enabled by wireless headphones, users are looking to connect with each other better in these Covid times, and as such, this app offers something new and exciting.
Due to the sudden popularity of Clubhouse app development, Facebook is already developing its own Clubhouse like app. Twitter is also testing the waters of such audio-based social app with its project called spaces to counter clubhouse app development. Suddenly investors are also lining up to invest in social audio apps. Those looking for audio social app development should utilize this fruitful timing.
Entrepreneurs looking to cash in on this buzzing trend need to act quickly and develop their own clubhouse app clone and initiate clubhouse app development to make sure that they catch this buzzing trend at the right time. Right now the app is only available for iOS but enterprising businessmen can quickly develop and launch an app that is a cross-platform app development and works on both Android and iOS.
In this short guide, we try to answer a few major questions:
1. Is It Possible to Undertake Clubhouse App Development?
2. What Features should it include?
3. How can it be made better?
4. Methods of Monetization
5. How much will the costs be?
6. How quickly can it be deployed?
Is It Possible to Undertake Clubhouse App Development?
Yes. By and large, the audio & microphone capabilities in any smartphone combined with a robust app interface along with the right user permissions will allow you to create an app that will offer an unmatched user experience that can match or better Clubhouse.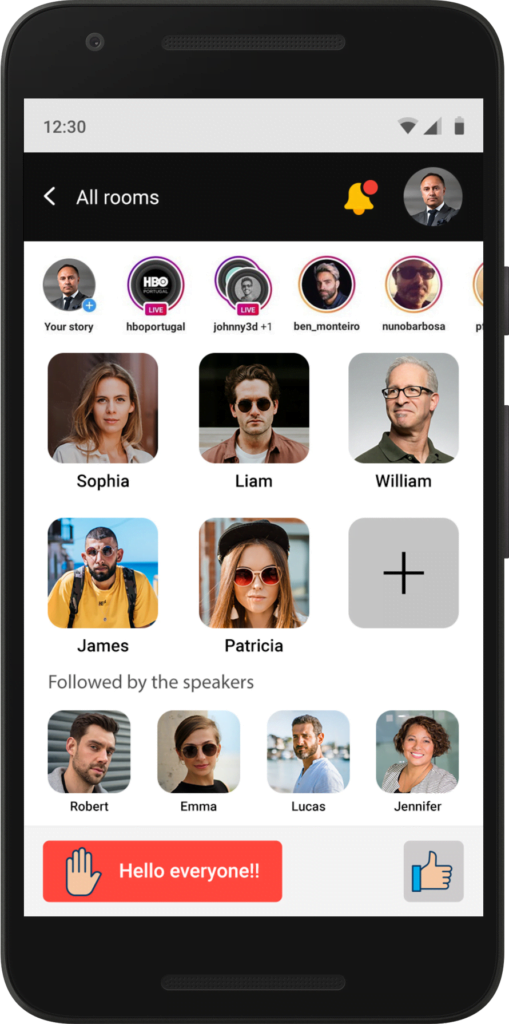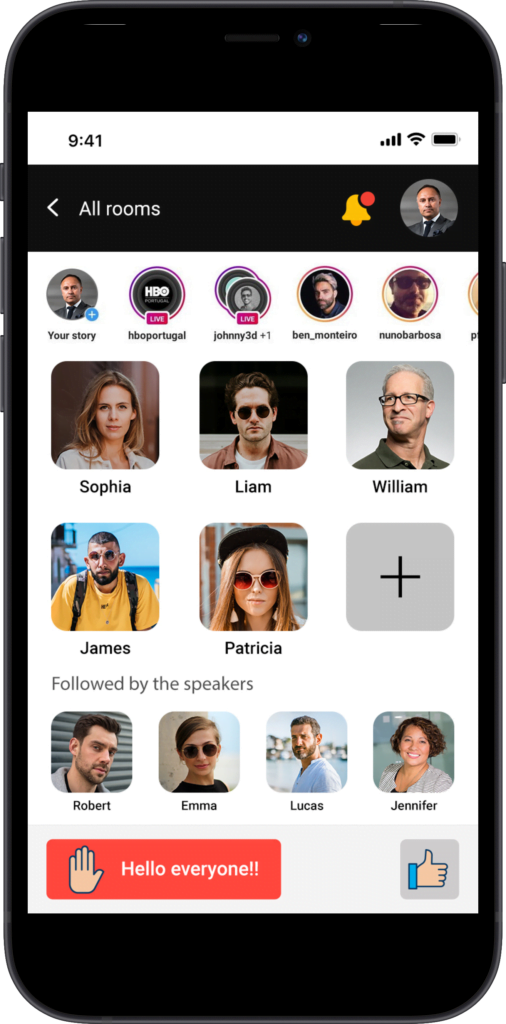 A Sample Mockup of Clubhouse App development Homescreen for Android & iOS
Features of Clubhouse Like Audio Social App:
A robust audio social app will need to have the ability to create and join rooms, search for rooms as per user interests, private rooms, admin privileges and other features. We are listing out the main features below. All of these features are available in the existing iOS and Android app development structure.
Joining Audio Rooms:

A user can search for rooms and join them. The user cans search for relevant rooms on the app, filter out the rooms best suited to him and join them or send a join request.

Room Search:

Just as users search for their friends and interests on social platforms, similarly users can search for rooms created by their favorite organizations, sports teams, television shows, movies and rooms created by their friends and family.

Stage Section

:
          In such rooms, only those invited on the "stage" can speak while others can join as audience.
Room Invitation:

Those looking to develop their own personal rooms or rooms based on specific interests can send an invitation to users outside the app through email. The email will contain a link that will allow them to join the room and the app in general.

Contact Invitations:

Users can simply invite all or some of their contacts in the phone to join their rooms on the app.

Admin Privileges:

Each room will have admin privileges assigned to creators and users so that they can block abusive users, create a paying user base, block or remove fake profiles and moderate their rooms as per their discretion.

Private Rooms:

Private rooms can be invitation only. Users can't join unless invited or they have to be approved by admins. Private rooms can also be used for subscription-based rooms, podcasts, etc.

Live Streaming:

The admin can go live with their room. the live notification will be given to all the room participate with push notifications. So that can join the live chat.

Ability to Sent  Multimedia:

Users can send relevant multimedia in the room for all participants. The features can be enabled or disabled by the admin.
Disappearing Messages:

Admins and or users can leave disappearing audio messages like Instagram stories, Snapchat.

Hand Raise:

During an ongoing session, a user can raise a hand to add his inputs and to raise points.

Emoji's:

users can send emoji's to express emotions during audio sessions.

Mutual Follows:

Users can see the mutual follows on other users.

Hallway:

Hallway can be the common interface with announcements and updates from the rooms.

Calendar Integration:

The app can allow admins to use an integrated calendar to announce upcoming sessions, users can also be allowed to book one on one sessions. This feature can come in handy for doctors, consultants, and other professionals. It is also a great way to monetize the app.

Payment Gateway Integration:

Users can pay for subscriptions or other services through this integrated payment gateway.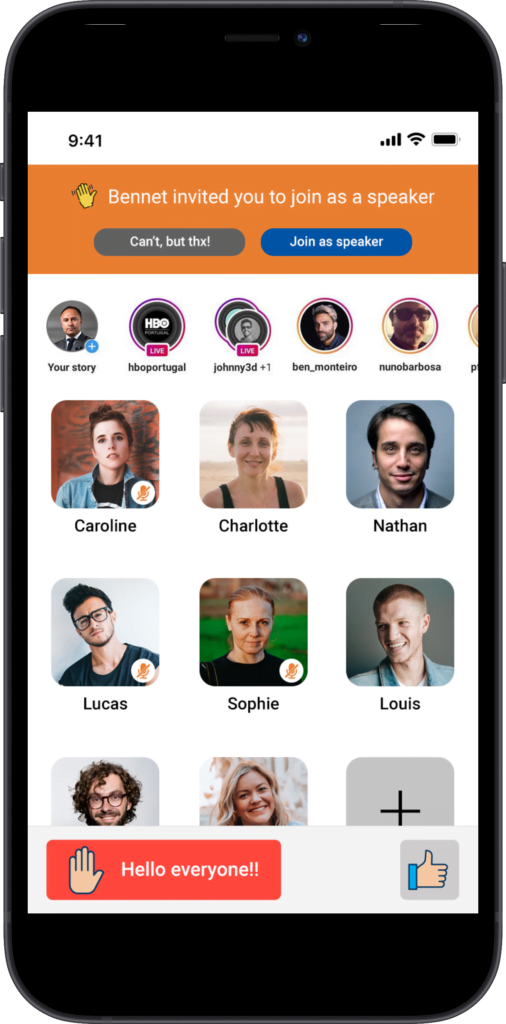 Sample Room Area in Audio Social App
How Can It Be Made Better?
There are features that can make audio social apps developed by expert developers better.
Company Profiles:

Just as verified profiles are available on other social platforms, users can create their own verified profiles for established businesses and brands.

Archive:

Previous room sessions can be recorded and automatically uploaded to folders, playlists for repeat listening. This feature can come in handy for educational institutions.

Notice Boards:

Every room could have its notice board announcing all the latest developments, instructions, FAQs, etc.

Social Media Login:

Users can simply use their existing profiles to join the app.

Audio Assistant Integration:

Audio assistants such as Alexa, Siri can be integrated into the app and linked to the user's profile so that the user can use the app using voice commands for the voice assistant.

Audio Filters:

Much like Snapchat emoji and 3D face filters, users can deepen their voice, make it sound younger, older etc.

Meet & Greet:

Specific rooms can be created for short period or longer periods where users can join with a clear purpose. For example, rooms for speed dating, business promotion meetings etc.
Methods of Monetization:
The app can be monetized based on two factors, Access and Ads.
Access-based Monetization:
The App creator can charge podcasts, private rooms, companies, and brands for their private and one-to-one sessions if they are to charge the users and can take a small percentage of the overall fee. The benefit to the users will be that fake users will be avoided and the money will go towards improving the platform constantly.
Access-based monetization can work for:
Podcasts

Brands and company profiles

Private sessions for professionals

Short term Purposeful Rooms, for example Speed Dating
Ads Based Monetization:
Advertise can create ads that will resemble Radio ads and promote them on the platform. The advantage over radio ads will be that the ads will be specific and targeted towards the user's expressed interests.
How Much The Costs Will Be?
The costs of such apps depend on multiple factors, the overall scope, the list of features to be developed, and the speed. Maintenance and backend support also needs to be considered in the overall development costs.
We provide two types of pricing models. A pay-as-you-go model based on fixed milestones or an hourly-based model where you can create a remote team and assign them development tasks. If you are looking for a hands-on approach, this type of model is best for you. If you are interested in assigning the project the first model is better.
How Quickly Can It be Deployed?
An app will be developed in various stages and versions and it can be deployed based on the number of experts hired and milestones created. By and large, you are looking at initial deployment within 90 days.
Conclusion:
If you are looking to develop your own social audio app, time is of the essence as large competitors like Facebook and Twitter are looking to enter the market. You need an experienced partner to guide you through the development journey. We have extensive experience in developing iOS App development, Android, and cross-platform apps. Drop us your requirements below and we will help you develop a confidential NDA-backed development plan.
Posted on February 23, 2021 by Keyur Patel