Build Your Own Social Dating App Like Flock
Mobile app development
Have you ever wondered what it would be like to date with your friends? Scout and meet exciting new people who have been verified by your friends? A new app on the market does exactly that.
Flux is an app that allows you to find friends and turns dating into a group activity that you can partake with your friends.
Flock defines itself as a social dating app where matchmaking is enhanced with a social atmosphere instead of a one on one matchmaking by apps such as Tinder.
Dating Apps: A Brief Intro
Dating apps allow people to chat and get to know each other virtually before meeting in person. It's a very convenient way for people to connect with each other and make new friends and contacts.
Most dating apps on the market today such as Tinder, Bumble, and others focus on one on one interactions between two prospective partners. Meanwhile, Flock is trying to re imagine the dating scene by bringing in a social element to the one-on-one experience most dating apps offer.
As such, there is a lot of scope for the app to grow as its tapping into a market that is new and relatively untapped. Most of the dating apps on the market are trying to corner the one-on-one dating space and are not focusing on enhancing the user experience through the involvement of a social network that enhances the dating experience.
Dating Apps Development
Since the launch of Tinder in 2012, the dating app market has been growing by leaps and bounds and has seen the entry of many competitors such as Bumble, OkCupid, and others. The personal and easy experience offered by the mobile dating experience has allowed many app makers to corner a space for themselves in the dating apps market.
Dating apps are categorized on the type of dating it offers, choices of partners, and for specific communities such as religious dating or location-specific such as dating apps for colleges.
Dating apps will provide features such as swipe-based matching. Location-based match options and  filtering for gender, interests & hobbies, and type of relationship sought.
Most of the major dating apps on the market provide most of these features and then a few additional features. They monetize the app through subscriptions, premium features, and by offering premium services such as AR/VR features for a price.
Where a social dating app will differ is that it will offer friends and family to join in when a person decides to go on the dating app the person can invite friends and they can browse profiles together and chat while doing so.
Major Features of Social Dating App Development
To make the social dating app development successful, you will need to target the right userbase, add the right features and monetize it appropriately with the help of a dating apps development company.
Social Login
Social login will be an important feature here as by connecting popular social networking apps with the app, people will be able to quickly add their friend list from the social networking app and increase your userbase.
User Screening
The app will simply lose its users if it doesn't constitute a good screening technology that removes fake users and ensures user safety & security.
Location tracking
Most users would prefer to meet people who are nearby so having location-specific filtering of profiles is a must.
Chatting
There will be two types of chatting, users can chat with their matches or create chat groups with their friends to browse suitable profiles for themselves.
Add/Remove Friends
Users can add or remove friends with whom they can browse profiles for dating.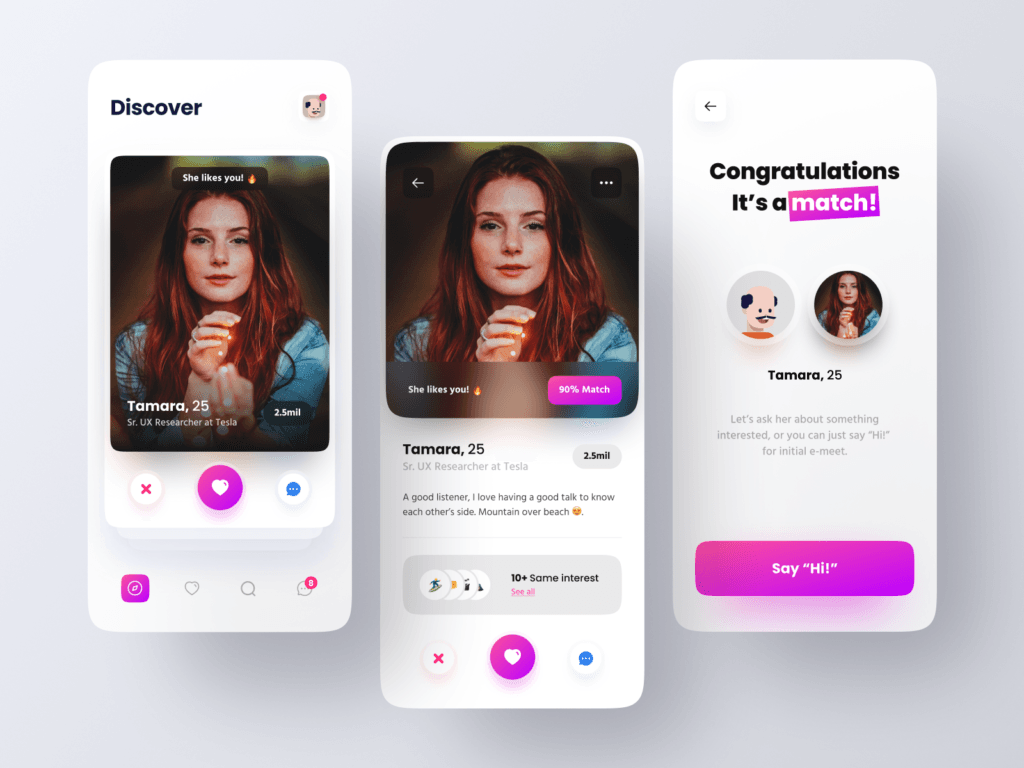 A proposed interface of a social dating app
Create Chat Rooms
Users can create chat rooms where they can discuss dating, check on profiles and just discuss any aspect they like. This will be a social feature on top of a robust dating platform.
Hide or Block Users
Users can hide or block users whom they don't want to be in contact with.
Hide Friends' Profiles
Friends who are just wanting to browse for their friends can hide their profiles from the active dating pool while browsing other profiles.
Search
Users can search for dating profiles filtering for location, gender, orientation, interests & hobbies and any other type of filtering.
Q&A
To get to know each other better, users can answer Q&A and get it displayed on their profile.
Groups
Users can join groups to meet people and have discussions on common interests.
Blog:
Users can be allowed to create their own blog or journal section to reflect on issues and matters related to dating.
Admin Features
Add or Remove Users: Admins can add or remove users and maintain a proper userbase.
Advertising
Admins can run advertising on the platform for monetization. Admins can also launch ads for third-party advertisers.
Verification
Users can be verified by admins through verification by documents, phone numbers, or other methods.
Manage User Requests
Admins can manage any user requests as and when they come in.
Tech Stack
Here is a proposed tech stack from our side for the social dating app.
Programming Languages
Kotlin, Java, Swift, Objective-C
Database
PostgreSQL, MySQL
IDE
Android Studio, Xcode 11
SDK
Android SDK, iOS SDK, Cocoa Touch
Cloud
AWS and Salesforce
Misc
G Suite, Google Analytics, Twilio, Google Maps, SendGrid
Conclusion
Social dating apps are a new type of apps that is poised to take over traditional dating apps that are available on the market right now. If you are looking to develop your own social dating app, do drop us a line below.
Posted on November 8, 2021 by Keyur Patel