Announcing Our Referral Bonus Program
Outsourcing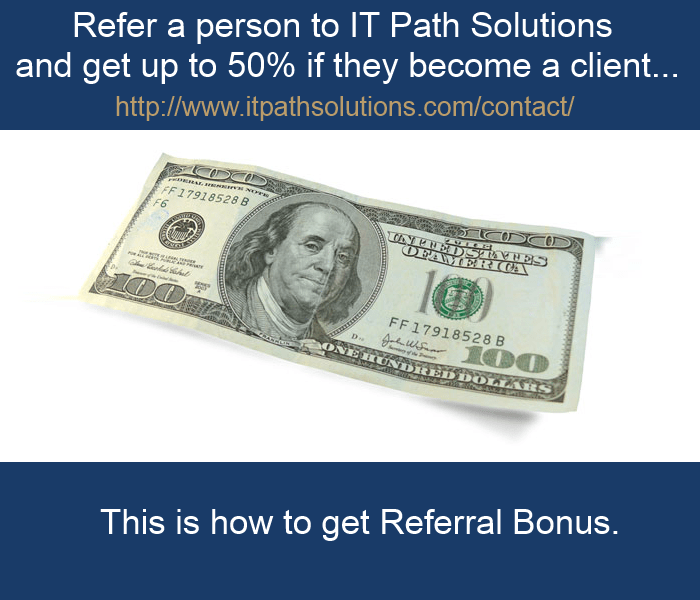 Glad to see your referrals for us!
We at It Path Solutions, believe that our one of the success way of getting new business is client referrals. As you are one of our respected clients, then you have experience of our services and its benefits. Then why you not recommend to your contacts, if you are happy with us.
Thus you can help them to relish our stress-free IT services and secure some good rewards for yourself. Share our information in your circle which can be your friends, colleagues, professional friends etc…
How Referral program works?
Simple Process:
Refer about IT Path Solutions-> Your referral contact us or we contact them -> your referral become our Clients -> your referral we be confirmed -> you will get confirmed your bonus -> newly referred client pays initial fees -> your bonus credited to your a/c.
Bonus Structure:
For every new contract
For $2000 to $5000 – You will get 10% final amount of contract
For $5000 + – You will get 20% of final amount of contract
For $10000+ – You will get 30% of final amount of contract
To participate in this referral program, just either email us whom you refer will contact them or have them contact us directly via email info@itpathsolutions.com . If you contact mention "referral program" at the beginning of your email or if they contact directly, please tell them to mention your name as a reference.
As and when your referral confirm the new contract or project with us, you will get email of your bonus confirmation. And as we get paid initially from your referral, you get your bonus.
For more info contact us on https://www.itpathsolutions.com/ .
Posted on December 2, 2015 by Keyur Patel